BLAST Fest is a pop-up festival that fuses the creative power of science, Black arts and culture as a force for change.
About this Event
This year we're combining our three main events into one virtual BLAST Fest Weekender! 31st Oct & 1st Nov 2020
Join us for Blasts-off this Saturday from the comfort of your own home! Day1has two parts, themed around Black history and the Science of Sound.
We'll meet again at 3:00 - 500pm on Sunday for our annual Black STEAM event showcasing Black brilliance and living history-makers in science, technology, engineering and Mathematics.
In addition to our excellent line up of speakers, we have a BLAST themed quiz (with prizes) and musical entertainment in store for you too! So join us for an online weekend of Black brilliance in science, social justice, Black culture and creativity!
Audience: The event is ideally suited to adults and young people 13+. However, this is a family-friendly event with parental guidance recommended for under 12's.
Access requirements: you'll need a computer - a laptop, tablet or smartphone and access to the internet, to watch the event. If you have any barriers to this, please let us know so we see how we might help.
After booking, remember to share the event details with your family and friends!
This is our first online event, and we look forward to seeing you (virtually) there!
This year's activities are supported by the Royal Academy of Engineering and our contributing speakers and friends.
If you would like to sponsor or contribute to the programme, or for anything else, please contact: Info@blastfest.org.uk.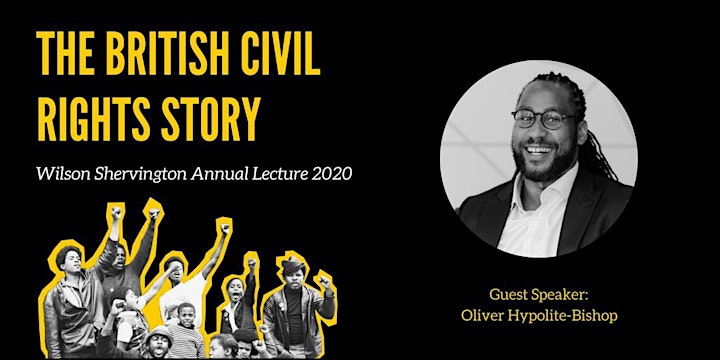 This years Wilson Alexander Shervington Annual lecture kicks-off of the BLAST Fest Weekender and will be given by Oliver Hypolite-Bishop.
Wilson Shervington was a man who believed in education for liberation. It's with this spirit that we select and invite our special guess speakers to share and teach.
Date: 31st October
Time: 4pm - 5pm
Talk title: The British Civil Rights Story
Do you know the British civil rights story? Why do we know Dr Martin Luther King but not Dr Harold Moody? This talk will bring to light the almost forgotten history of Black British activism and its role in establishing modern British civil rights. We will leave the conversation equipped to share the knowledge, names and stories of those we should regard as our civil rights heroes, so they no longer go untold.
Guest Speaker: Oliver Hypolite-Bishop is a political commentator with a focus on race, racism, class and inequality within Britain. His specialisms include campaigning, diversity in Tech, inequality, youth and sport. Having studied politics and history in both the UK and USA, his collection of sports achievement include 5 American Football National championships in the US and Europe. In addition to these, and many other things, he is the Founder and current Chair of the London Spirits Awards.
Includes a Jazz musical performance by;
Ray Grant - Double Bass
Jeff Blake - Drums
Ralph DeCambre - Guitar
Andy Peat - Keyboard
Andy Gayle - Saxophone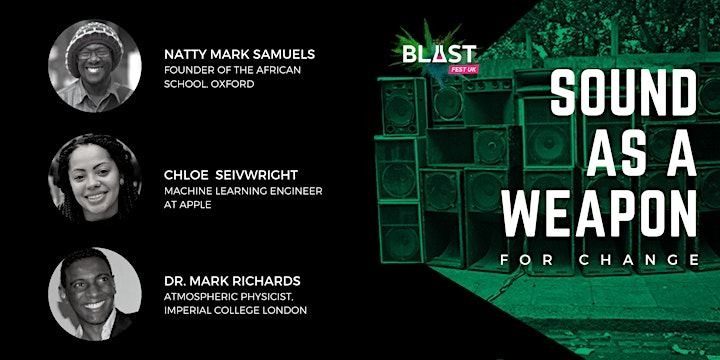 Join us for Sound as a Weapon for Change!
6pm - 8pm
This segment will take us back-to-the future of engineering, science and technology through the lens of African Caribbean contributions in history and Black Pop-Cultural perspectives on the uses of sound technology in our current time.
Speaker order:
Natty Mark Samuels: Founder of the African School, Oxford
Talk: Of the King and the Duke: Engineering Radars and Sound Systems.
Natty's talk explores the historical link between wartime radar engineering in Europe and the building of the first sound systems in the Caribbean. The key figure was the Jamaican polymath Hedley Jones. He fought for a king, inspired a duke: an iconic figure in the development of music.
Natty founded African School in 2009 with a remit to deliver African Studies to the general public. Teaching has taken place in varied settings; such as schools, community projects, museums, youth clubs and universities. The African School Library literally delivers "African Studies by bicycle" and was set up in Oxford 2020, during the pandemic. The bi-monthly 'Kitabu,' is the newsletter of the ASML.
Chloe Seivwright: Machine Learning Engineering at Apple
Talk: From Nature to AI: How Sound & Speech Technologies are Shaping how We Live
Before studying Speech Technologies Chloe's exposure to applied speech technology was limited to fictional sci-fi characters such as KITT the Knight rider car, dragon dictation systems and the "newly" released voice assistant - Siri. Through her work and study of speech recognition since 2013, she's learnt how 'speech tech' shapes our healthcare, environmental and ecological research and accessibility with digital devices - and more! Chloe's talk will explore this impact and what our future could look like with the adoption of new technologies.
Dr Mark Richards: Atmospheric Physicist at Imperial College, London
Talk: Sound as a Weapon for Change
Under the title of the session theme, Marks talk will explore the nature of sound as a physical waveform and its unique role in shaping the universe. He'll reflect on sound waves as 'energy and information carriers' and how this relates to sound through music and rhythm, and as a communication tool. In particular, how 'Word, Sound and Power' has been used throughout history as a catalyst for social change.
Paying homage to his Jamaican heritage, and his side career as a DJ, Mark will give special consideration to the role that reggae and more widely 'Sound System Culture' has played in this regard
Live all-speaker Panel/Audience Q&A
We will also be joined by Mykal Brown (MBE) Director of Wassifa CIC, and Renowned Wassifa Showcase Sound System who'll compliment Mark's talk with a real Sound experience.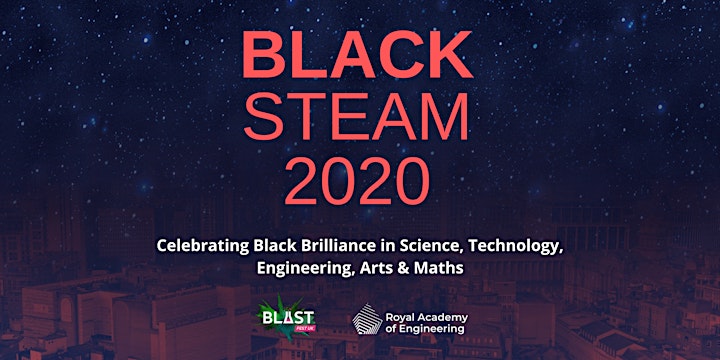 Black STEAM Showcase!
Sunday 1st Nov 3pm - 5pm
Join us for an afternoon showcase of inspirational talks and performance and let our guest speakers take you on a journey through their personal stories of discovery, perseverance and success!
Guest Speakers:
Dr Niquet Goldson - Veterinary scientist & Musician
Dr Tana Joseph - Astronomer and Director of AstroComms
Marlone Mukwande - Medical Student & Co-Author of Mind The Gap
Professor Christopher Jackson - Geologist and Professor of Basin Analysis at Imperial College, London
Dr Yewande Okuleye - Medical Cannabis Researcher, Leister University
Talks are followed by Live All-Panel /Audience Q&A.