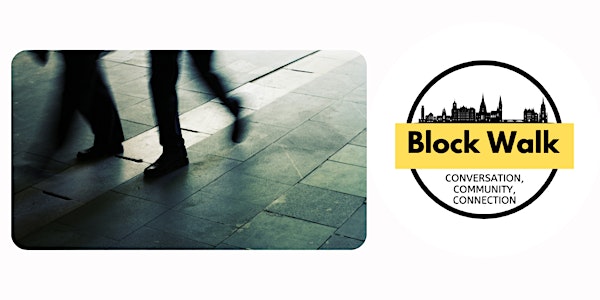 Multiple Dates
Block Walk: Conversation, Community, Connection
Rediscover you local area, expand your network and reimagine your community. This event is linked to one other event listed below.
About this event
As life continues to be disrupted by the global pandemic, lots of us are feeling out of sorts, disconnected and frustrated that the activities we relied on for social interaction and a sense of belonging are on hold.
Despite the restrictions on our lives, we think there are still opportunities to meet new people, expand your network and to feel more connected to where you live.
These self-organised; hour-long walks, which will take place every day during the Firestarter Festival, are designed to be taken in pairs (socially distanced); or on the phone whilst you walk. You can do as many walks as you like throughout the week.
Partner up with a neighbour or a stranger from your local community. If you don't have someone to walk with, we can make introductions. Email us at helloblockwalk@gmail.com
Decide on a route around where you live and organise a time for your walk.
The Walk
Introduce yourself – each person taking at least 5 minutes to talk about themselves and the things that are most important to them given current pandemic restrictions. Only share what you feel comfortable sharing.
Choose one of our suggested topics (below) and spend the rest of the hour walking, talking, actively listening and observing.
Document your walk and conversation through drawing, writing or photography.
Share your route and story on our Block Walk Padlet Page https://padlet.com/blockwalk/juzqdo3atulljivu

We're particularly interested in what comes out of the random connections that are made with people who you otherwise might not have met and any changes you'd like to make in your community as we come out of the pandemic.

Come along to the Firestarter Festival closing event "Walking our Landscapes" to tell us what happened. https://www.eventbrite.co.uk/e/walking-our-landscapes-tickets-133210065893
Suggested conversation topics:
Community: What does community mean to you? What happens in your local area? Do you know your neighbours? How does your community work? What would your ideal community look/feel like?
Local History/Knowledge of the Area: Street names, buildings and engineering. Look out for water courses, industrial buildings or landmarks. Do you know anything about the history of your area? Who does the land belong to?
Environment: The elements: wind, water and nature. Where can you find it? How is it by day or night- how does this effect your experience? Has the pandemic changed your relationship with the natural environment/outdoors?
Suggested things to record/document:
What do you notice on your walk?
Did you discover any new favourite places?
Did you notice any empty or wasted spaces?
Who owns the spaces that are derelict or not used to their potential?
How could these be used better by the community?
Did you learn anything about your walking partner that surprised you?
If you need more information, we'll be hosting the Firestarter Festival Curiosity Cafe on Tuesday 2nd February 8.30 -9.30 am
https://www.eventbrite.co.uk/e/curiosity-cafe-tickets-131316714829
Organiser of Block Walk: Conversation, Community, Connection