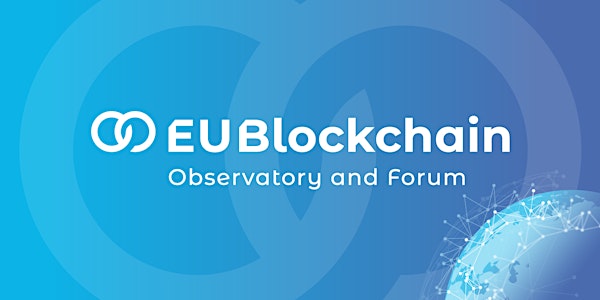 Blockchain: a key enabler to innovation in Europe and the world
Location
Av. de Beaulieu 25
25 Avenue de Beaulieu
1160 Auderghem
Belgium
Sales Have Ended
Registrations are closed
Thank you very much for your registration to this event. As the event will take place in a European Commission Building, our team will follow up to collect your ID or passport number for security reasons, to ensure you can safely enter the building on the date of the event. For any questions regarding this event, please contact info@eublockchainforum.eu
The EU Blockchain Observatory and Forum is pleased to announce its first physical event, since the pandemic started!
About this event
*********Thank you for your interest in the event! YOU CAN WATCH IN LIVESTREAM HERE: https://youtu.be/hMWhpHxlImc**********
The event titled "Blockchain: a key enabler to innovation in Europe and the world" will be held on July 8th in Brussels and will feature speakers across a variety of panels and keynotes on blockchain trends and innovation in Europe and beyond.
Highlights/Objectives:
An engaging event with opportunities to network and exchange ideas with blockchain experts from around the world.
A chance to talk directly with regulators and policy makers.
Discover the latest blockchain trends.
Selection of EUBOF's thematic reports will be presented.
Attendees from the European Commission, startups, NGOs, academia, and governments.
Panel discussions on hot topics such as the metaverse and NFTs.
A Policy Dialogue focused on blockchain regulation in the EU and how Europe can achieve its leadership and global competitiveness in the new digital era.
Networking event for EUBOF Expert Panel and other attendees.
Topics to be covered:
EU Blockchain ecosystem landscape
Metaverse
NFTs
Energy Efficiency of blockchain
Law and Regulation
Confirmed speakers and full agenda will be announced shortly.
More information about the event:
Event location address: DG CONNECT building, Avenue de Beaulieu, 25, 1160 Auderghem, Brussels
Attendance is free of charge, but registration is required. To register follow this link
Registration Deadline: 30/6/2022
General information and updates are available on the EUBOF's website: www.eublockchainforum.eu
Press and other general inquiries are welcome at charalambous.mari@unic.ac.cy