Blogging Education Event at Top Left Design - March Session

Tuesday, March 29, 2011 from 12:00 PM to 5:00 PM (BST)
Event Details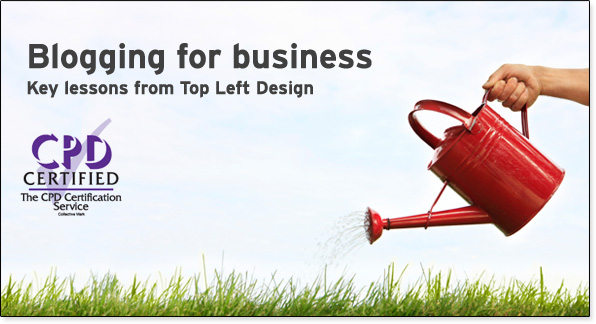 Learn how Wordpress and other blogs can help you market your business, raise your profile, and how to Do It Properly!
BIG NEWS: This seminar is now CPD Certified!

Keren at Top Left Design will lead an interactive seminar covering:
Why blogging would be good for your business
Blogging do's and don'ts 
Different types of blog post
Using Wordpress and other blogging platforms
Avoid the pitfalls of blogging
The best free blogging tools
How to fit blogging into your busy working life
How and where to find images for your blog
Resizing images
How blogs can integrate with other social media
Q+A session
Takeaway notes
Sandwiches, Tea and Cake
Maltesers
Prize draw to win a free Twitter strategy training session, including Twitter background design
Other things we will think about before then - we are ideas people!
If it's in the list then you will experience it!
Join us for an information packed interactive session at our offices on Welbeck Street. We're big fans of blogging here at Top Left Design and we want to share with you the things we have learned.
The seminar will be led by Keren Lerner, director at Top Left Design. Below are some testimonials from people who have attended recent presentations or experienced our advice before.
---
What others say about learning from Keren and the Top Left Design team
TLD's blogging seminar is a great platform to launch into the blogosphere! Keren and her team took into consideration the scatter of experience among the attendees and catered to their specific needs. The session covered everything from Do's and Don'ts, types of blogs, the intricacies of time management and etiquette of the platform as a whole. It is relatively easy for anyone to start blogging but very difficult to do it effectively with optimal impact… and this is where TLD seminars excel. Keren has a wealth knowledge when it comes to social tech-networking and not only will she help you transform your business endeavours into an online tool but is a great personality, a hub, that is constantly creating connections between people and developing positive relationships. Conducted in a very relaxed environment with sofas, coffee, cupcakes and banter… the training sessions and seminars at TLD are highly recommended for those wanting to take their first right step into blogging! The cupcakes are awesome and lunch made me very happy.- Darrin des Vignes
---
Keren Lerner, TLD's Director and our host, initiated us into the joys and pitfalls of the blogosphere, delivering a deceptively detailed amount of information in a relaxed and accessible way. The fifteen attendees each represented very different businesses – from a freelance movie producer to an interior designer – and required answers specific to them, but Keren ensured we were with her each step of the way, giving us a clear understanding if blogging was right for us and, if it was, how to start blogging for fun and profit.- Michael Marks
---
As a writer, I was looking for ideas on how to make better use of blogging for my business. The Top Left Design seminar was excellent. Keren is a charming host and a fluent and accomplished presenter with a relaxed style all of her own. She explained the 'who' and 'why' as well as the 'how' of blogging and I especially liked how she encouraged participation without interrupting the flow of information. We all had an interesting and enjoyable time – even the food was well thought out. Highly recommended.- Brendan Staunton
---
I had the privilege of having an hour's chat with Keren from Top Left Design, during which I learned about so many things I could do to improve my web presence and therefore increase client enquiries. Keren told me about a number of resources which are easy (and free!) to use, as well as suggesting ways I could tweak my existing site to make it more attractive to potential clients. I had expected to come away from the conversation with a list of expensive services they could perform but it couldn't have been further from the truth! Instead, I came away feeling inspired, empowered and excited about making my mark on the internet. And yes, I'll definitely be coming back to Keren for her expertise when I need help along the way. Thanks so much, Top Left Design!" - Claire Bradford
---
Working with TLD on my recent blog site was a pleasure! I worked with Michael Hobson following an initial brief with Keren. Michael was - and is - great to work with. He's creative, very quick to respond and to understand, kept me on the point and also very patient and good fun! He came up with ideas, suggestions, feedback and is genuinely interested in what you are trying to achieve and helping you get that.We continue to work together and he is both professional and fun to work with, a great combination." - Kay White
---
Keren delivered her presentation to a mixed audience, ranging from technophobes to web designers; it is my opinion that she held all present equally enthralled by the clear and informative content of her talk and by her honest approach to sharing her companies guidelines to impactful web sites. If you have the opportunity to attend one of her seminars. Grab the chance, you will not be disappointed!" - Mark Keatley-Palmer
---
"Great presentation Keren! Very informative, useful and understandable. I took a lot of notes! I am very impressed with all your work and the numerous websites which you showed. I'm so impressed with you that I will be putting my web design business your way! I will also confidently refer friends and clients to you. Now that's the BIGGEST commendation I can give you! I trust you. I think everyone else in the room feels the same way now too. You converted the audience into raving fans - Very Happy Phil
---
"How refreshing it was to attend a seminar with a potentially technical and complex subject matter, and to be presented with a straightforward user friendly approach which even the worst technophobe could have understood. Highly informative and effortlessly delivered" - Thomas Gilder
When & Where

Top Left Design
17 Welbeck House
62 Welbeck Street
W1G 9XE London
United Kingdom


Tuesday, March 29, 2011 from 12:00 PM to 5:00 PM (BST)
Add to my calendar
Organizer
We are a unique design agency and consultancy (based in Soho, London, established 12 years) offering amazing client care, advice and service.
Our talented, creative and efficient team apply ideas, experience and strategy for a memorable online brand and presence you can be proud of - to raise awareness, build credibility and create a connection with your audience.