About this Event
For the first time in Cambridge, you will be able to explore exceptional capabilities of the Bloodhound LSR. Working with Bloodhound Education, we are pleased to present this special exhibition and workshop, so you and your family can discover more about this very special 5-part modular version of the actual car.
Bloodhound LSR is a spectacular mix of car and aircraft technology. It is powered by both a jet engine and a rocket, which together will produce more than 135,000 horsepower: that is more than 60 Formula 1 cars put together! Last year, Bloodhound LSR clocked a speed of 628 mph (1,011 km/h), only the 8th land vehicle to cross 600 mph. Now, Bloodhound LRS is aiming to set a new Outright World Land Speed Record by pushing past the 763 mph record to an astonishing target of 1000 mph (1,610km/h).
To design, build and manufacture this amazing car, over 110-man years of effort and knowledge have already been invested. This educational modular version allows you to explore the unique design and engineering aspects of Bloodhound LSR in detail, plus fascinating insights from our communicators, alongside interviews from those who designed and built the car.
Join us for this very special exhibition, workshop and tour of the educational module of the Bloodhound LSR car.
Hear more about the project and the incredible team bringing it to life, understand the car's distinctive nature, learn about the history of the land speed record and the importance of 3D printing to model engineering.
On leaving, children will be given their own take away goody bag which will include gifts from Bloodhound LSR and Cambridge Science Centre.
When: From 15th August to 3rd September (Wednesday, Thursday, Friday, Saturday and Sunday, plus August bank holiday Monday).
Limited numbers of tickets will be available per session due to social distancing requirements and MUST be booked in advance.
Each session will last approximately one and three quarter hours and will include a tour of the educational module of the Bloodhound, a presentation on how and why the design and delicate engineering is so important to the success of the car, and a workshop activity.
Children will receive their own take-home goody bag.
For those with families, this exhibition is suitable for children aged 6 years and older.
PLEASE BRING YOUR TICKETS WITH YOU.
COVID-19 precautions:
We have your safety at the heart of what we do and have a Covid-19 Risk Assessment in place.
We ask you to note the following:
• All members of your group must wear a face covering. Children under 11 years are not required to wear a face covering.
• Sanitiser must be used upon arrival and will be available throughout the centre.
• All areas will be thoroughly and regularly cleaned throughout the day by our staff.
• One family group to use the toilet facilities at any one time.
• Refreshments will NOT be available or provided. Personal water bottles may be brought into the centre.
Ticket purchase
Choose your ideal date and session via this page. Your booking will be confirmed through Eventbrite via email. If you have any queries, please contact us at info@cambridgesciencecentre.org.
Parking
There is a small amount of street parking near to the Centre, plus several bike racks. Some paid-for parking is available on the local streets. The nearest NCP car park can be found at Cambridge Train Station.
Finding us
Cambridge Science Centre is located at 44 Clifton Road Cambridge CB1 7ED.
We are less than a 5-minute walk from Cambridge Leisure Park and about 10 minutes from Cambridge Station. For more details, please see our website.
Upon Arrival
You may need to queue for a short while upon arrival. If this is the case, please ensure you maintain social distancing.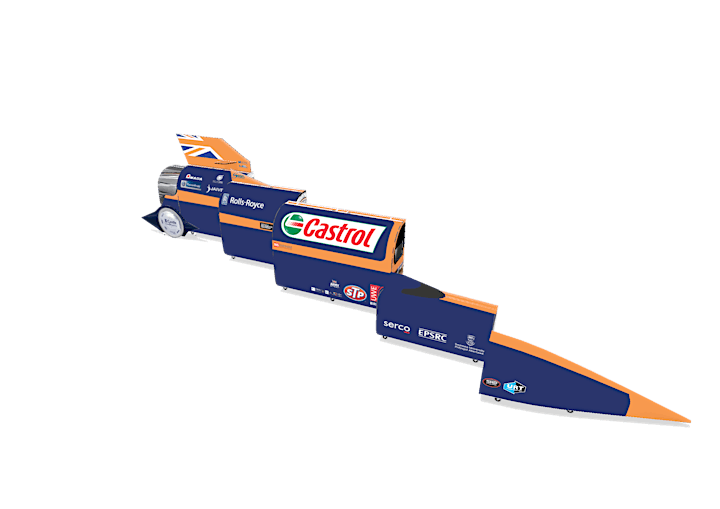 BLOODHOUND EDUCATION - THE MODULAR VERSION OF THE BLOODHOUND LSR CAR.