Virtual marathon reading by poets from Bloof Books and Action Books, as part of the online small press book festival SMOL Fair.
About this event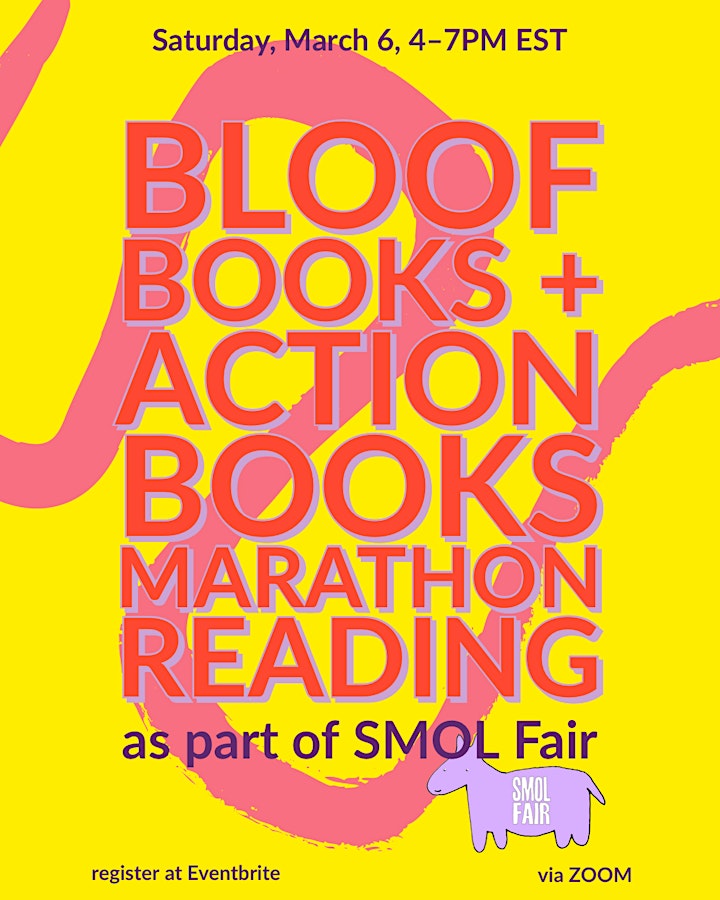 Join a multitude of poets from Action Books and Bloof Books as they read their work on the penultimate day of SMOL Fair, the small press alternative literary festival.
Zoom details will be emailed to registered participants before the reading. This event will feature auto-captioning and visual materials shared by the performers.
Enter promo code SMOLFAIR at bloofbooks.com for 20% off all week!
Action is offering a 4 for $40 bundle too!
SMOL Fair is a small press virtual book fair from March 3–7, 2021.
4pm:
Becca Klaver
Ginger Ko
Michelle Gil-Montero & Valerie Mejer Caso
Kate Hedeen
Jenn Marie Nunes
jj rowan
Maureen Thorson
Elisabeth Workman
Douglas Piccinnini (film-poem: Immortal Pig)
mini-intermission
5pm:
Hailey Higdon
Katrine Øgaard Jensen and Ursula Andkjær Olsen
Lara Glenum
Dakotah Jennifer
Todd Fredson
Kirsten Kaschock
Sharon Mesmer
Ana Hurtado (film-poem: Alma)
mini-intermission
6pm:
Austyn Wohlers
Candice Wuehle
K. Lorraine Graham
CA Conrad
Pattie McCarthy
Jennifer L Knox
Valerie Hsiung
Danielle Pafunda
Sandra Simonds