A 12-month growth and sustainability programme specifically designed for women running micro-businesses
About this event
The Growing Club is a Social Enterprise founded and based in Lancaster. The Growing Club works with women who run a small business, social enterprise or charity in North West England
The growth programme began in 2016 because Jane Binnion identified there was little to no support for women running micro-businesses. Time and time again she saw women struggling to grow their organisation or bring in enough income, despite working 50 to 60 hours a week - and she identified that traditional business training was not suited to the specific challenges and strengths of women in this position.
Since 2016, more than 60 women have graduated from the programme with flying colours!
The growth programme - Bloom and Grow - is a systematic business growth and sustainability course, tailored specifically for the needs of women.
Instead of short-term, intensive training or coaching, this course offers long term, ongoing support over a period of 12 months, through facilitated business skills workshops and a buddy system and peer network structure.
The course is highly subsidised, reducing the cost to just £395 (rather than £1500). You can reserve your place by paying £55 deposit below. You will then be able to pay the remaining fees in up to 5 monthly instalments.
The Bloom and Grow growth programme is a 12 month commitment and offers you the following:
A monthly facilitated skills workshop, each month building on the previous to take you through a year of business growth.
A one-to-one coaching session with a course facilitator.
A safe space to grow your business, working with a cohort of 9 other women just like you.
Peer accountability through a monthly 'buddy session' with another participant.
A safe space for confidentiality and a place to evaluate and reflect on your progress.
To join a growing network of women who have completed Growing Club courses.
The course is designed for women who...
want to lift their heads from the day to day minutiae to see the bigger picture;
work better in all female support space;
cannot afford a coach but want to grow their business;
have not found a coach that works holistically with them;
want an accountability partner and peer support;
value other people's experiences.
Course dates...
The course is a 12 month commitment which requires you to attend monthly skills workshops and a monthly buddy session. The Lancaster course will run on the first Tuesday of each month, beginning on Tuesday 3 March 2020 and ending on 2nd February 2021, as follows:
March 3, April 7, May 5, June 2, July 7, August 4, September 1, October 6, November 3, December 1, January 5, 2021, and February 2, 2021.
If you would like any further details, we would love to tell you more about this fantastic programme. For further details please email admin@thegrowingclub.co.uk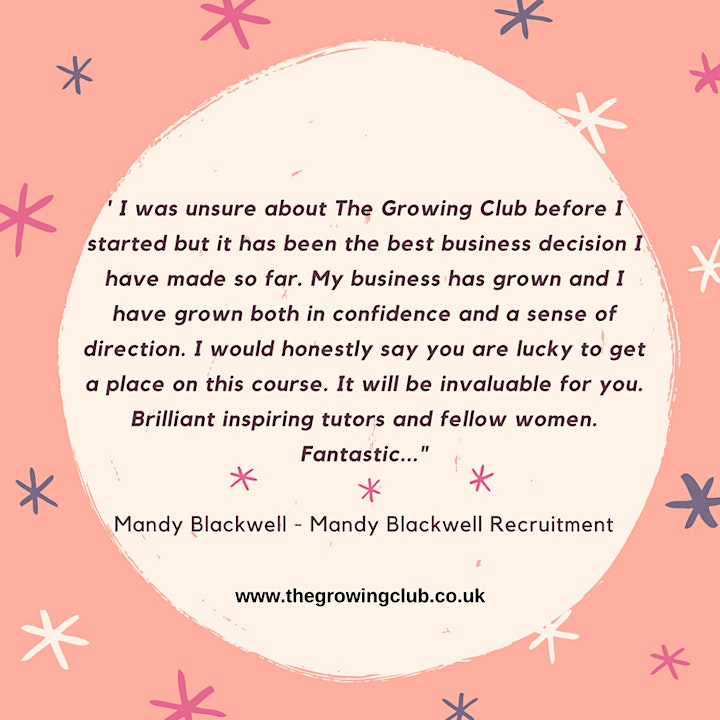 Organiser of Bloom and Grow: The 12-month Growing Club growth programme, Lancaster