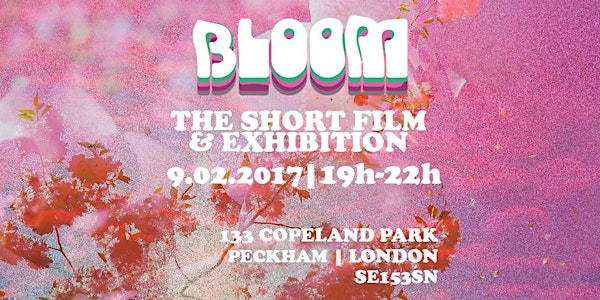 BLOOM: The Short Film & Art Exhibition
Location
Copeland Gallery,
133 Rye Lane
Peckham
London
SE15 4ST
United Kingdom
Description
❀ Due to popular demand, it is with great pleasure we bring back and invite you to the screening and art exhibition of BLOOM.
❀ Bloom is a new coming of age short film centered around four teenage girls- Sabrina, Rianne, Tracey and Ruby. We enter the world of these girls at a point in their lives when they are just beginning to grapple with the greater issues of adulthood. Their world is a mélange of school subjects, dance routines,music and the looming issue of sex. In this film we get to see how they manage themselves internally and together as friends. As their summer comes to an end we realize that the sun may also be setting on a part of their youth that they will never be able to get back.
❀ Part of the BLOOM project includes collaborating with female visual artists from around the world. The artists have come from an array of different places to mention a few; England, France, Bulgaria, Holland, USA, Thailand, Israel, South Africa, Australia & New Zealand. These artists are sent out the script of the film and are asked to make brand new pieces in response to the film. Some pieces are shared online, some are shared exclusively at our events.
❀Bloom was shared with audiences at an event for friends, family and a select few of the London underground creative scene back in September at Copeland Gallery. The event was a great success with over 200 people walking through the door. In November, the event was brought over to Copenhagen, Denmark by Danish Platform, Girls Are Awesome as part of a pop up event associated with the Copenhagen Pix Film Festival.
❀ We are extremely happy to bring BLOOM back to London and are estatic to be able to host the the event at Copeland Gallery, Peckham, South East London again. As we do at all of our events, we are transforming the 4400sq venue and creating an immersive experience for you all, with another brand new curation. Once again using plants, lighting designs and art to take you into the world of BLOOM.
Curated by Jessica Wang, Natsaha Hastings & Jesse Gassongo-Alexander.
❀ Activites:
Exhibition
Screening - 20:30 (https://www.youtube.com/watch?v=XAWe_3hE348) - Trailer.
QA with Cast & Crew
❀ Other things to know
Drinks provided by Vita Coco
Limited Goodie bags with products from Paperchase, Pip & Nut plus more.
Tote bags & Stickers for sale.
Selected pieces for sale too.
❀Poster designed by Joana Ferreira.
The venue has a LIMITED capacity, which we cannot go over. So make sure to get tickets quick. Starting off at only £5!