Description
We are delighted to welcome Kasia Boddy to Heffers for a talk on her richly illustrated new book Blooming Flowers: A Seasonal History of Plants and People.
The bright yellow of a marigold and the cheerful red of a geranium, the evocative fragrance of a lotus or a saffron-infused paella - there is no end of reasons to love flowers. Ranging through the centuries and across the globe, Kasia Boddy looks at the wealth of floral associations that has been passed down in perfumes, poems and paintings; in the design of buildings, clothes and jewellery; in songs, TV shows and children's names; and in nearly every religious, social and political ritual.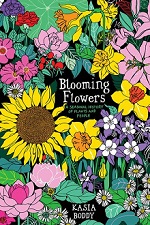 ''From the meaning of carnations in Sex and the City to the use of sunflowers in the cleanup of Chernobyl, from Henry VIII's ban on saffron dye in Ireland to the modernist reinventions of roses, this is no ordinary flower book, and Kasia Boddy is no ordinary writer."— Ali Smith
Dr Kasia Boddy teaches American Literature at the University of Cambridge. Her previous books include Boxing: A Cultural History, The American Short Story Since 1950, and Geranium. She lives in Cambridge, UK.
Tickets for the event are priced at £5 in advance or £6 on the door, and can be purchased through this page, by calling 01223 463200 or in person at Heffers bookshop. Please note that tickets are transferable but non-refundable.
Like this? See a full list of our forthcoming events by clicking here.