About this Event
We will send out the Zoom link the day before the event by email.
Open Mic places are 2 minutes each and are first come, first served. Please select this option additionally to your General Admission ticket when booking.
What is required to see into the cosmos? To see into ourselves? The poems in this collection will take you on a journey from inside atom to the vast reaches of our solar system, and beyond to star nurseries, distant moons, and nebulas in deep space, into the future and back to the beginning. Through the lens of these poems, Miranda holds our universe up to the light for a view into 'what we are': beings of both light and particles, mass and matter, glittering dancers, voyagers and creators, 'a web / of mysterious filaments', and the conscious embodiment of the cosmos, bound by time.
A limited number of signed copies of Blue Dot Aubade will be available from the author on the night of the launch for £6.50 plus P&P (£8.00 total for UK buyers; contact author for international rates). Payments to paypal.me/MirandaLBarnesPoetry
You can also pre-order copies from V. Press at https://vpresspoetry.blogspot.com/p/blue-dot-aubade.html !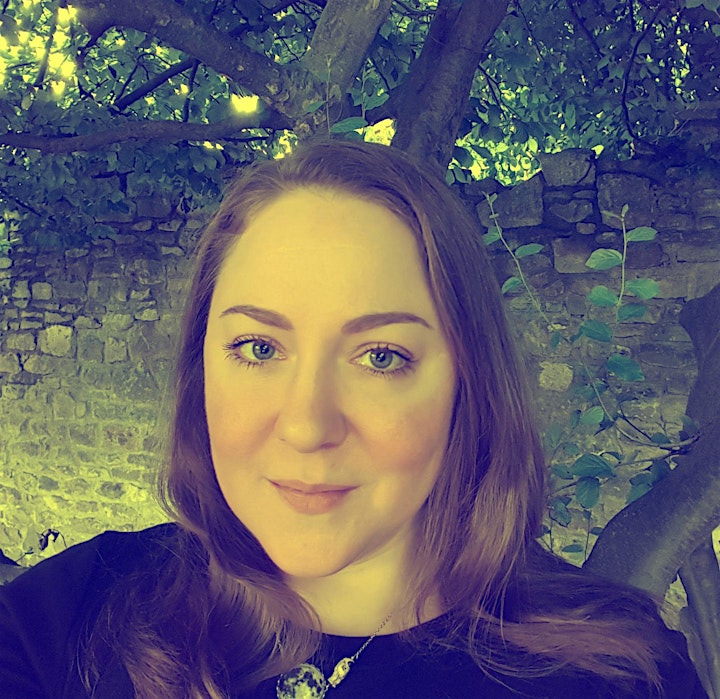 ABOUT THE AUTHOR:
Miranda Lynn Barnes is a poet, writer, and educator from the US, now resident in the UK. Her poems have appeared in New Welsh Reader, Shearsman, Poetry Birmingham, Tears in the Fence, Under the Radar, The Compass, The Interpreter's House, and Lighthouse Journal, among other journals and anthologies. Miranda taught creative writing for five years at Bath Spa University, where she earned her doctorate. She now serves as Research Publications Librarian at the university, and lives in Bristol. Blue Dot Aubade is her debut poetry pamphlet.
Find out more about Miranda at https://mirandalynnbarnes.wordpress.com/
SPECIAL GUEST: TANIA HERSHMAN
Tania Hershman's poetry pamphlet, How High Did She Fly, was joint winner of Live Canon's 2019 Poetry Pamphlet Competition and was published in Nov 2019, and her hybrid particle-physics-inspired book 'and what if we were all allowed to disappear' was published by Guillemot Press in March 2020. Tania is also the author of a poetry collection, two poetry chapbooks and three short story collections, and co-author of Writing Short Stories: A Writers' & Artists' Companion (Bloomsbury, 2014). She is co-creator of @OnThisDayShe, curator of short story hub ShortStops (www.shortstops.info) and has a PhD in creative writing inspired by particle physics. Hear her read her work on https://soundcloud.com/taniahershman and find out more here: www.taniahershman.com