Description
*THIS IS A TICKET-ONLY EVENT*
Since 2009, Blue Labour has been exploring and detailing the growing disconnect between the Labour Party and those whom it has traditionally sought to represent. This has included wide-ranging analyses - from welfare to economics, mass immigration to family policy - but at its heart has remained a consistent, core insight: an all-out embrace of liberalism, both social and economic, has alienated the Labour Party from its traditional working-class support. This conference aims to further explore those key insights, discerning where common cause might be found beyond the confines of current party orthodoxies, assisting the Labour Party in once again becoming a broad coalition of diverse interests and aims.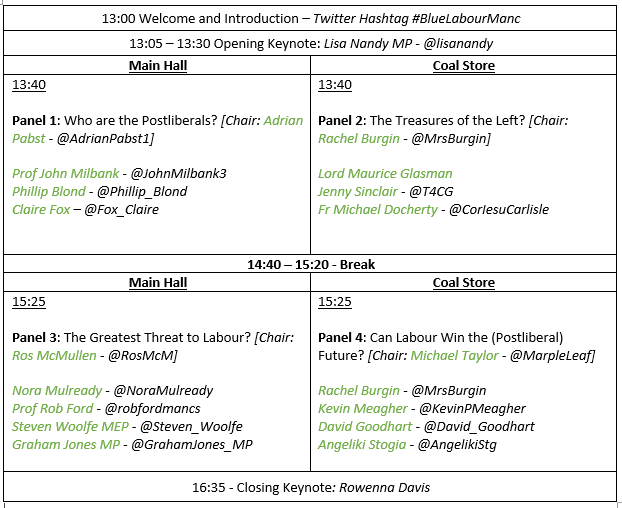 The day will consist of two keynote speeches and four panel discussions. These will be broad-ranging and will draw together voices from across the political spectrum. They will look to explore: the term postliberalism, including to whom it applies, and what it has to offer current political culture; Labour's increasing estrangment in its historic heartlands and how it might find ways to re-engage with the alienated and dispossessed; alternative accounts of the greatest electoral and cultural threat to Labour and how it might meet that challenge; whether or not Labour is ready or willing to engage with a postliberal future and why it must look to do so.
A full conference outline, with panel line-ups and thematic overviews, is avilable here: https://michaelmerrick.me/2016/11/12/blue-labour-manchester-panel-outlines/
A selection of publications/broadcasts linked with Blue Labour can be viewed below:
Blue Labour: Forging a New Politics
The Labour Tradition and the Politics of Paradox
Labour's New New Jerusalem (Radio 4)
N.B. Due to a diary clash and a mix-up in communications for which I take full responsibility, Anna Rowlands is unfortunately unable to attend this conference. My apologies, and many thanks to Anna for both her support and interest.