Blue Skye Thinking - Children's Brain Tumour Charity Firewalk

Saturday, 5 November 2016 from 17:00 to 20:00 (GMT)
Event Details
Do you remember the Loom to the Moon appeal in 2015 by Skye Hall, a five year old boy with an aggressive brain tumour who called for help from the local community to set a world record by creating the world's longest loom band? The campaign had incredible worldwide support and raised over £200,000 for research into the most dangerous of all childhood cancers.
We are excited to announce that we are currently working on a project with the Oxford Children's Hospital to use all 30,000m of loom bands donated to create an awe inspiring and fascinating art installation in the main atrium. The artwork will be designed to engage young patients, their siblings, parents and visitors and help make their time in hospital less stressful, providing a fun and interactive distraction. The colourful piece will also celebrate the life of Skye who brought so many people together with his strength of character and bravery.
This bonfire night, Blue Skye Thinking will be holding a Firewalk at The Nags Head Pub in Abingdon to raise funds for this artwork. Walking on hot coals is not as dangerous as it sounds! The professional company who run the event will provide training to all participants. It's easy, it's simple and does NOT require any special skill. All you have to do is follow the simple instructions and if celebrity Emma Bunton can do it, you can!
Opportunities like this don't come along all that often, now is your chance to discover you're awesome.
If you fancy challenging yourself to something a little 'outside of the box' then please do sign up and be part of something pretty amazing! You can either get a team together or friends are welcome to attend as spectators. All can enjoy a hog roast and the atmosphere will be great and you should also have a good view of many local firework displays!
Everyone will get something unique and treasured for themselves. You will learn about yourself, and build bonds with friends and colleagues who accompany you, that will only continue to strengthen far beyond the night of your Phoenix Firewalk..
However this event not only gives you the opportunity to do good by raising funds for a deserving cause, but to expand your own mind, and to discover just how much you are truly capable of.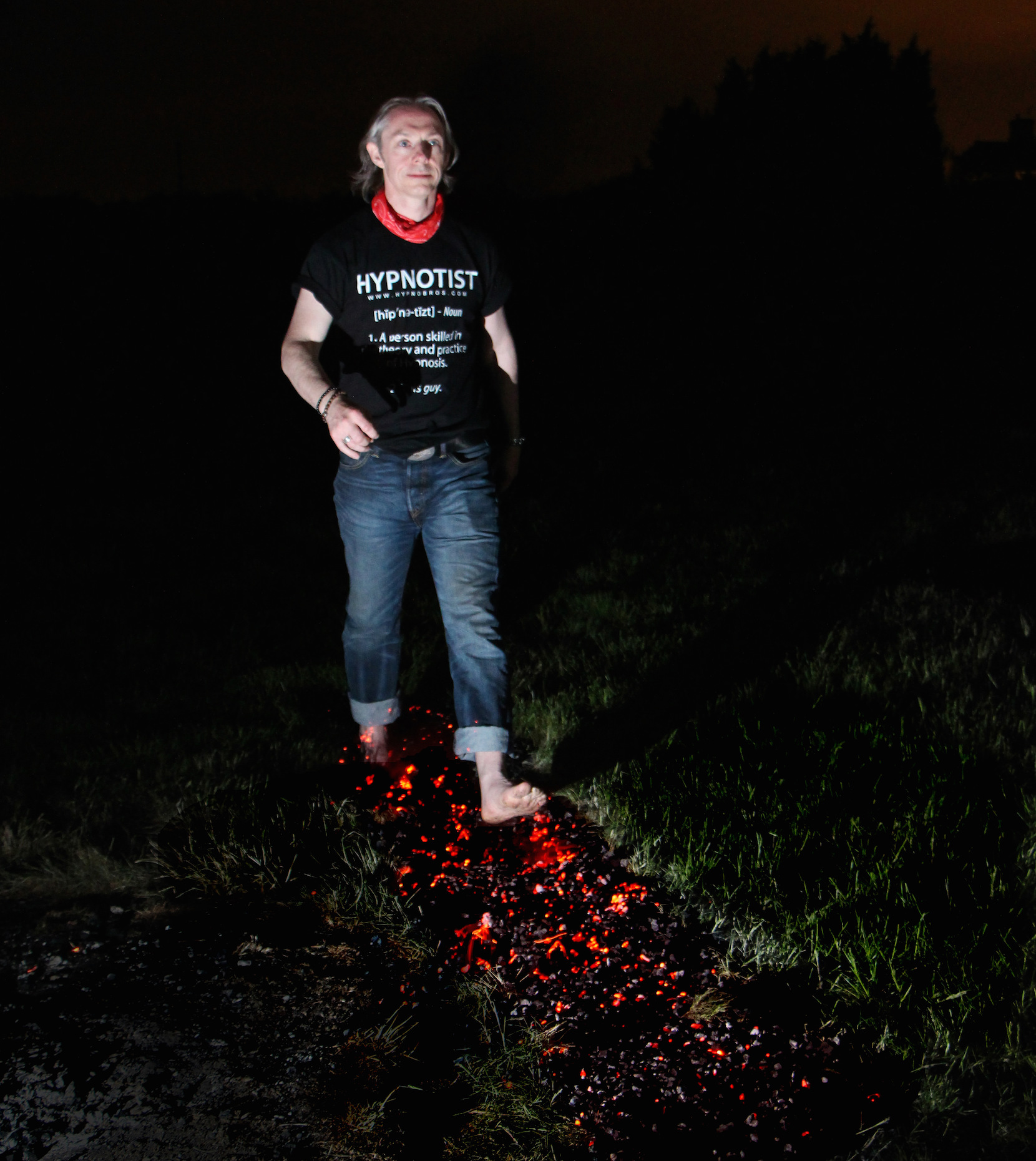 During the seminar you will learn:
Fear cannot only be controlled, but eliminated altogether

All the resources you need to move forward in life are already within you

To reconnect with your own inner confidence

The skills and attitude to experience the Phoenix Firewalk
Coach, Hypnotherapist & Firewalk Instructor, Barry Collins, will help you create in yourself the optimum state for change, so that when you are ready, you too, like the Phoenix, can emerge from the ashes renewed, leaving unwanted patterns of behaviour and beliefs in your past!
The act of Firewalking goes back thousands of years, sometimes used as a rite of passage, a test of one's courage and strength, or in religion as a demonstration of one's faith. Whatever your motivation, if you choose to take the Phoenix Firewalk, the way you feel after just 6 short steps, will stay with you, empowering you and reminding you of your infinite potential.
When you book, you pay £40 to secure your place as there are only a limited number of places for safety reasons. By securing your place you agree to try and raise a minimum of £100 sponsorship. When you collect your sponsor money, if you have raised more than £100, you can choose to take the £40 deposit back (providing you have clearly stated this to your sponsors), and the balance is paid to the beneficiary.
FAQs
Are there ID requirements or an age limit to enter the event?
The minimum age limit for this event is 18 years. There is no upper limit, simply that you are able to walk unsupported.
Is it Firewalking safe?
This is NOT something you should try at home. Barry Collins is a Success Formulae & Firewalking Centre Certified Firewalking Instructor, and takes every step to ensure your safety.
Are spectators allowed?
The seminar is for delegates only, however spectators are welcomed and encouraged for the Pheonix Firewalk. During the course of the evening, delegates will be updated as to when that is likely to be, so that they can call / text family and friends with a more accurate time, but we would expect the walk to take place between 8-9pm. Please advise spectators however that for the safety of both themselves and the walkers they must follow instructions given by the event team.
Where do I get my sponsor form?
After making your booking, the confirmation page will have a link to download the sponsor sheet for this event. The link will also be in the email confirmation you get containing your e-ticket.
When & Where

The Nags Head
The Bridge
OX14 3HX Abingdon
United Kingdom


Saturday, 5 November 2016 from 17:00 to 20:00 (GMT)
Add to my calendar
Organiser
The Phoenix Firewalk
The Phoenix Firewalk is your opportunity to experience something truly special. Whether it's corporate team building, fundraising for a cause or charity, or for your own personal development, The Phoenix Firewalk will take outside your comfort zone to the place where transformation happens...
Your instructors are husband & wife team, Barry & Marina Collins. Barry is a Master Firewalk Instructor certified by the founder of the global firewalking movement and The Firewalking Centre, Tolly Burkan. Marina is certified by the UK's leading Master Firewalk Trainer, Steve Consalvez. Together they will help you to step out of you comfort zone, learn how the fears we create for ourselves, hold us back, before providing the opportunity for you to leave your fears behind... once and for all!
Firewalking dates back thousands of years and has been seen in many cultures across the globe, however the current Global Firewalking Movement was initiated in the 1970's by Tolly Burkan, a spokesperson for firewalking which now boasts over 4 million firewalkers and 3,000 instructors worldwide.
Blue Skye Thinking - Children's Brain Tumour Charity Firewalk