An event for aspiring business owners to join a LOW investment, HIGH profit return proven business model, turning over £1million in 3 yrs
About this event
If you are an aspiring business owners with sound business acumen, good management skills and a caring personality then this is the event for YOU! It is important to note that previous care experience is not required to join a home care franchise model!
Let's start with you, are you ready for a new challenge in your career?
Are you at a crossroads within your career? You know you're great at your job but looking for a new challenge?
Maybe you work hard and you feel your worth outweighs your salary at the end of the month? Or maybe you've reached a ceiling in your current workplace even though you have more to offer?
If the above sounds like you then maybe you're ready for that new challenge, one where you can reach your full earning potential! It's time to start running your own business, be your own boss and reap all the benefits of being self-employed!
Join our FREE online discovery event, where we will cover the following:
Why choose franchising over going it alone?
How to choose the right franchise for you.
Why choosing a home care franchise is a smart franchising choice.
How you can build your own Home Care company with Bluebird Care.
What are the potential earnings of owning your own Home Care business are.
Hear from our Franchise Owners and why they joined.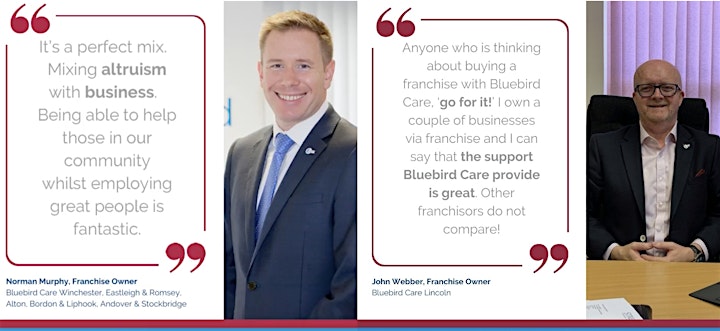 Join us at our FREE event to find out more.
Register NOW to receive your invitation!