The Open Evening is your opportunity to find out more about Bobby Moore Academy's Sixth Form, opening in September 2022.
About this event
BMA's Sixth Form offers unique academic, careers and pastoral provision. Our curriculum offer includes 22 different subjects and qualifications, all carefully considered to ensure that we are unrivalled in East London.
We focus on:
Providing a high-level academic offering that will enhance our students' futures
Carefully selecting the most rigorous and respected qualifications and exam boards
Providing students with a world-class education from our subject-expert teachers
Creating partnerships with universities, businesses, and charities, to enrich and extend the curriculum.
Small Footprint, Large Impact
Bobby Moore Academy has a small footprint, but a large impact. BMA Sixth Form has a purpose built, dedicated study centre, along with large panoramic roof terraces just for the Sixth Formers and a dedicated kitchen. Sixth Form students are able to make use of cutting-edge facilities, including a theatre, dance and activity studios, numerous Mac suites, recording studios and excellent sporting facilities, alongside London Stadium.
Separate but Connected
BMA Sixth Form is distinct from the rest of the academy in many ways, including:
Different business hours
Separate lunch and studying locations
Sixth-Form only dress code
Specific code of conduct
However, BMA Sixth Form builds on the most outstanding feature of our academy: our personal development provision. We provide every student with a bespoke personal development package that helps students both inside the classroom and by providing external opportunities to develop the skills and qualities needed to access the most elite universities and careers worldwide.
Partnerships, Careers and Futures
In designing every aspect of BMA Sixth Form, we have been guided by our values of ambition, aspiration, courage and respect. This includes fostering partnerships across a wide range of institutions, to help prepare our students for their futures and to create an exciting environment for them while they are with us at BMA. We have existing partnerships with the Universities of Cambridge, Oxford and Loughborough, King's College, London, as well as more local universities including UCL and the London College of Fashion, which is designing the Sixth Form dress code. Everything from lab coats and sportswear to face masks and lanyards will be designed by world-class designers.
The Elite Universities programme at BMA Sixth Form supports you in developing the skills and qualities needed for university admissions at the most competitive universities. Outstanding guidance is led by the UK's most experienced school UCAS adviser, and supported by a range of teachers, who are graduates of Oxford, Cambridge, Russell group and USA Ivy League universities.
Enrichment and Extension
BMA Sixth Form offers many enrichment experiences; from elite sports coaching alongside Olympians to the performing arts and opportunities to play music with a national orchestra, the sky's the limit. We also offer our students the Extended Project Qualification and the Scholars' Programme for those who strive to go the extra mile.
Find out more
https://www.bobbymooreacademy.co.uk/Sixth-Form/
sixthform@bobbymooreacademy.co.uk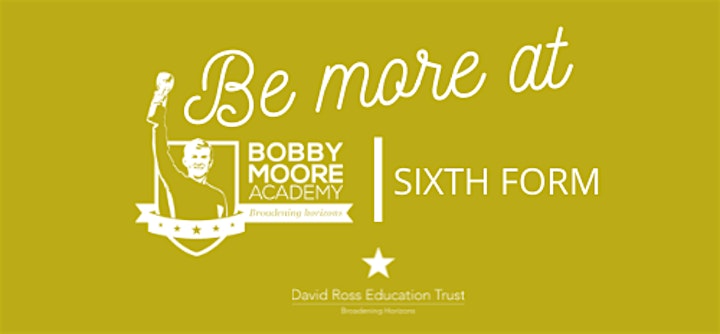 Organiser of BMA Sixth Form Open Evening Wednesday 10 November 2021 at 5 - 7pm