Description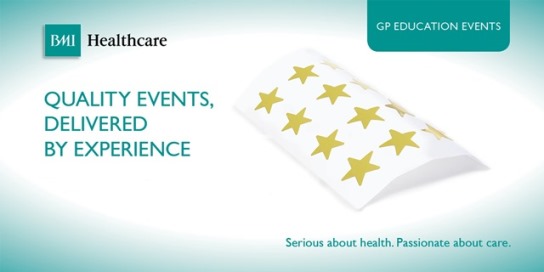 BMI Healthcare North London Orthopaedic Conference 2017
BMI The Kings Oak, The Cavell and Hendon Hospitals warmly invite you to the BMI Healthcare North London Orthopaedic Conference 2017 to be held at Allianz Park, home of the Saracens on Saturday 17th June.
Some of our leading Trauma & Orthopaedic, Spinal and Sports Injury Consultants will come together to deliver this year's most valuable 'whole body' educational experience in Orthopaedics, tailored to primary care.
Join us for an informative and interactive half-day with light breakfast, refreshments and buffet lunch.
08:30 - 09:00 Arrival, registration and breakfast
09:00 - 09:15 Welcome address
09:15 - 09:45 "Hand & wrist injuries and disorders - What's new?" Mr Michael Kurer
09:45 - 0:15 "Sports injuries and the General Practitioner," Mr Joyti Saksena
10:15 - 10:45 "Common Spinal Conditions in General Practice," Mr Bob Chatterjee
10:45 - 11:05 Q&A with session 1 speakers All
11:05 - 11:25 Tea & Coffee break
11:25 - 11:55 Exhibition: Injection models, braces and splints
11:55 - 12:25 "Elbow pathologies for GPs," Mr Simon Wimsey
12:25 - 12:55 "ACJ injuries and Frozen shoulder," Mr Abbas Rashid
12:55 - 13:15 Q&A with session 2 speakers All
13:15 - 13:25 Closing address
13:25 Lunch is served
Our 'exhibition' break out sessions listed above will afford you the opportunity to move freely between different stands exhibiting model injections, DJO braces and hand & wrist splints. You will get hands on with a specific model-part of the body and learn first hand how to inject correctly. You will also learn how to correctly fit a leg or knee brace and hand & wrist splints, making the conference the ideal place to accumulate your CPD learning hours in Orthopaedics.
Reasons not to miss this conference!
Certified 5 hours of learning to your Continuing Professional Development (CPD)

Ask the consultant in advance - complete our pre-questionnaire upon registration and your chair will quiz the consultants throughtout the day giving you expert answers to your health-related questions

Home of the Saracens - FREE tour of one of the world's largest collection of sport's memorabilia
Places are limited - register your attendance by clicking on the green 'register' button at the top right hand side of this page.