Description
Please note that there is a planned tube strike on the 4 and 5th feburary, see a link about it here. However given the BCS central location, many mainline train station are within 30 minutes walking distance, you can use google maps to see and plan your route.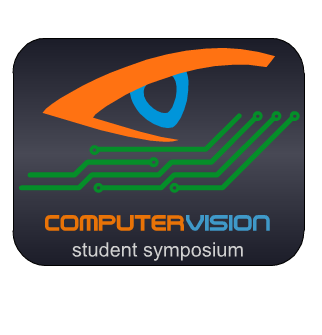 BMVA Student Symposium
One Day BMVA technical meeting in London, 5th Feburary 2014
Chair: Simon Hadfield
We are pleased to invite attendees to a one day BMVA technical meeting at the British Computer Society in London. The meeting's goal is to promote collaborative computer vision research in the UK, particularly that involving students and early career researchers. Attendees will also receive a broad overview of the cutting edge work, being undertaken across all areas of vision, including opportunities for networking and the exchange of ideas.
10.00 Arrival, registration and tea/coffee
10.20 Welcome
Simon Hadfield
10.30 Keynote 1 - Auto-annotation and self-assessment in ImageNet,
Vittorio Ferrari (University of Edinburgh)
11.25 Oral 1 - TTTM for Computer Vision,
Nazli Farajidavar and Teofilo deCampos, Josef Kittler (University of Surrey)
11.50 Oral 2 - Upper body pose estimation using monocular vision and Kinect pose priors,
Michael Burke and Joan Lasenby (University of Cambridge)
12.15 Lunch
12.45 Poster Session 1
Simultaneous Tracking and Modelling

- Karel Lebeda (University of Surrey)

Fetal Head Detection from Sequences of Ultrasound Videos

- Mohammad Maraci (

University

of Oxford)

Glaucoma classification using texture and histogram based approach

- Suraya Mohammad (University of Manchester)

Assessment of Microsoft Kinect Technology for Patient Monitoring during External Beam Radiotherapy

- Fatemeh Tahavori (University of Surrey)

Novel View Synthesis for Video Conferencing

- Brooks Paige (University of Oxford)

Texture Classification with Fisher Kernel Extracted from the Continuous Models of RBM

- Tayyaba Azim (University of Southampton)

Face Recognition with 3D Morphable Models

- Guosheng Hu (University of Surrey)
13:30 Keynote 2 - What I have learnt about vision research,
Andrew Fitzgibbon (Microsoft Research Cambridge)
14:25 Oral 3 - Fast object segmentation in unconstrained video,
Anestis Papazoglou and Vittorio Ferrari (University of Edinburgh)
14:50 Coffee + Poster session 2
3D Level Set Initialisation for the Hippocampus Segmentation

- Maryam Hajiesmaeili (Kingston University London)

Detecting mitotic cells in Histopathology images

- Violet Snell (University of Surrey)

Automatic detection of circular structures in human embryo imaging using trigonometric rotation of the Hough Transform - Anna Molder (Manchester Metrpoloitan University)

Multitouchless: Real-Time Fingertip Detection and Tracking Using Geodesic Maxima

- Philip Krejov (University of Surrey)

Learning to Recognise Dynamic Visual Content

- Matt Marter (University of Surrey)

An array-of-histograms feature space for vision tasks using Dual-Tree Complex Wavelets

- Stewart Forshaw (University of Cambridge)
15:35 Oral 4 - Accurate Bone Segmentation in 2D Radiographs Using Fully Automatic Shape Model Matching Based On Regression-Voting,
Claudia Lidner, S Thiagarajah, J.M. Wilkinson, G.A. Wallis and T.F. Cootes (University of Manchester, University of Sheffield)
16:00 Oral 5 - Sequential Input Space Carving for visual codebook design,
Barathy Mayurathan, U.A.J. Pinidiyaarachchi, M. Niranjan (University of Southampton, University of Jaffa)
16:25 BMVA, Social Media and You,
Paul Tar (University of Manchester)
16:35 Discussion
Simon Hadfield, Vittorio Ferrari, Andrew Fitzgibbon
16:55 End of Meeting