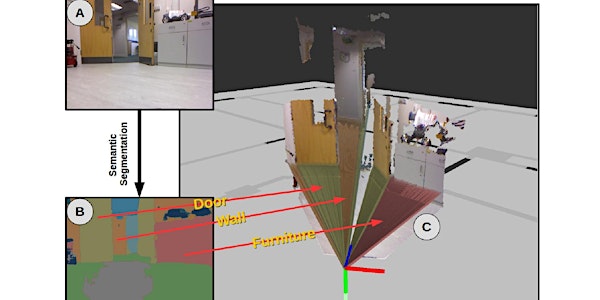 BMVA technical meeting: Robotics meets Semantics: Enabling Human-Level Unde...
Description

BMVA Symposium:
Robotics meets Semantics: Enabling Human-Level Understanding in Robots
Chairs: Oscar Mendez-Maldonado & Mihai Bujanca
Keynote Speakers:
Cyrill Stachniss, University of Bonn
Daniel Cremers, TU Munich
Andrew Davison, Imperial College London
Call for Papers:

For decades, "Bridging the Semantic Gap" has been a catchphrase in the fields of Computer Vision and Robotics. Whilst a nuanced semantic understanding of the world is still an open problem in both fields, there have been important advances in vision-based Machine Learning that enable semantic-based approaches in both Robotics and Vision. Specifically, the field of Semantic Segmentation has begun to produce results that are reliable enough to be used in robotic systems that perform Navigation, Grasping, Localisation, Reconstruction, SLAM and even Human Interaction.
This workshop aims to bring together experts in Vision-based Machine Learning and Robotics to discuss the applicability of semantically-enabled vision to robotics.
Programme:
09:00 – 09:20 Registration
09:30 – 10:20 Keynote Talk 1: Direct Methods for Visual SLAM - Daniel Cremers, Technische Universität München
10:20 – 10:40 Dense 3D reconstruction and semantic segmentation of large-scale outdoor scenes from passive cameras – Ondra Miksik, University of Oxford
10.40 – 11.00 Coffee & Posters
11.00 – 11.50 Keynote Talk 2: Cyrill Stachniss, University of Bonn
11.50 – 12.10 Collaborative Large-Scale Dense 3D Reconstruction with Online Inter-Agent Pose Optimisation – Stuart Golodetz, University of Oxford
12.10 – 13.30 Lunch & Posters
13.30 – 13.50 Industrial Talk: Autonomous Valet Parking – Brian Holt, Parkopedia
13.50 – 14.10 Reinforcement Learning For Human-Inspired Grasping – Rebecca Allday, University of Surrey
14.10 – 14.30 Visual Ontologies for Intelligent Robotics – Joanna Olszewska, University of West Scotland
14.30 – 14.50 Towards an Unequivocal Representation of Actions – Michael Wray, University of Bristol
14.50 – 15.10 Coffee Break
15.10 – 16.00 Keynote Talk 3: From SLAM to Spatial AI - Andrew Davison, Imperial College London
16.00 – 16.20 Automated Map Reading: Image-Based Localisation in 2-D Maps Using Binary Semantic Descriptors – Andrew Calway, University of Bristol
16.20 – 16.40 VO/Localisation robustness in rainy conditions – Horia Porav, University of Oxford
16.40 – 17.00 Keynote and Presenters Panel Discussion
Posters:
Grounding Symbols in Multi-Modal Instructions – Yordan Hristov, University of Edinburgh
A novel waypoint-based navigation method that combines visual and natural language percepts to aid sample-based planning methods – Emmanuel Kahembwe, University of Edinburgh
Organiser of BMVA technical meeting: Robotics meets Semantics: Enabling Human-Level Understanding in Robots