Description
BUILD YOUR BRAND
GROW YOUR BUSINESS
SHIFT YOUR INDUSTRY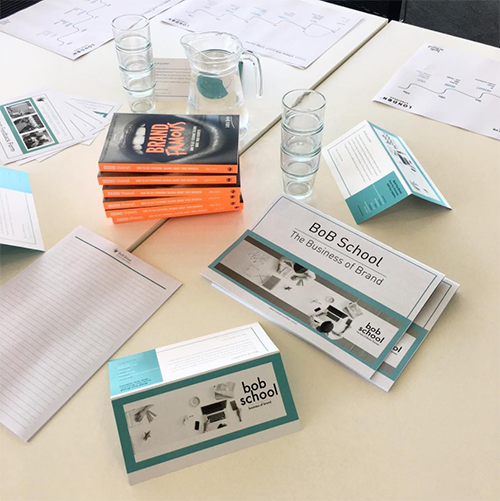 Discover your brand, shift the world:

Do you want to be a change maker?

When you discover your true brand and build your business strategically upon that foundation you will have the opportunity to disrupt the world around you and make a real difference.

Are you ready for that change? Now is the time.

Linzi Boyd and the BoB Group developed the BoB School to deliver an in-depth version of Linzi's methodology that she uses when working with brands all over the world, taking them from idea to execution. BoB School teaches you everything you need to know to make your brand stand out in a crowded market, achieve the uplift, and create a higher valuation for scale.


During the overall six-day program you will:
Define your hidden assets, building out a bigger value for your business.
Build a plan from the 'Top-Down' rather than the 'Bottom-Up', enabling investors to see the full picture for growth.
Understand the activation process for your business to create traction in the plan to position it for scaled growth.
Understand the numbers that you are building your business to, and where the funding points are required.
Be given tried and tested tools to become famous within your sector.


Introducing Brand DNA (Days 1-2):
At this two-day, interactive workshop, brand guru Sarah Skeats will help you define and refine your Brand DNA and learn how to build your business around brand. Defining your Brand DNA helps everyone in the business focus on what's important so your business can stand out in an already crowded market place.

Understand your brand:

• Make your brand choices
• Define your purpose
• Find your gap in the market
• Future map your industry
• Discover your brand asset

Form your brand personality:
• What do you want to be known for?
• Personal Brand & Business Brand
• Who is your audience?
• Tell your story
• Create your brand blueprint

Who should attend:
Purpose-driven business owners, industry leaders, CEOs and senior staff looking to understand their gap, how to create their point of difference and stand out in a crowded market. This workshop will provide you with a blueprint to own your voice, craft your story and deliver your message clearly and effectively.

You'll leave with:
A greater understanding of the value of brand
Personalised Brand DNA Blueprint
Key actions to implement in your business to strengthen & differentiate your brand.

We highly recommend you read: 'Brand Famous: How To Get Everyone Talking About Your Business' written by BoB School founder, Linzi Boyd.
Access your free chapter here.


Event Details:
Tuesday 21st November: Arrive 9am - 9:30am for registration and refreshments. Session starts at 9:30am.
Wednesday 22nd November: Arrive 9am for refreshments. Session starts at 9.30 am.
- School hours: 9.30am-4.30pm


Pricing:
The $100 will secure your place on BoB School - Brand DNA.
The full price of the 2-day workshop is $2250, and your deposit will be deducted from this. The remaining $2150 can be paid manually via the BoB Group team.


*Tickets are very limited. Please contact Sarah directly for further information, and pricing options at: sarah.skeats@thebob-group.com
About Sarah Skeats
Sarah is a Global Partner of the BoB Group, leading Australia and Asia. She is a master of brand and brings a depth of knowledge and experience to the Business of Brand School in brand strategy, brand communications, employee experience, digital, B2B and B2C marketing, product, channel and campaigns.
She has delivered record-breaking acquisition, retention and brand campaigns with leading global and national brands including Microsoft, Telstra and recently as the Head of Brand at NAB.

Sarah now uses her experience to support the growth of private enterprises looking for a highly focused, results driven, smarter approach to achieving business goals and revenue through integrating the power of brand.

About Donna Armstrong

Donna is passionate about working with conscious business leaders and communities to create optimistic change for the future. She is the master of storytelling and loves helping individuals and business connect with and communicate their authentic story.
A journalist and magazine editor for almost 20 years, Donna has worked with award-winning publishing houses in Sydney, London and New York, Since starting a family she has spent the past eight years as an entrepreneur, navigating the startup world with a variety of new businesses. Donna's business Our Little Foxes was selected
for the Telstra Muru-D accelerator program in Australia in 2016. Donna's is energised by working with visionary business leaders on projects that bring about optimisticchange for the future. Join her at BoB School, Australia.