Broadcaster and author Aled Jones discusses his new children's book Bobby Dean Saves Christmas with the Dean of Southwark.
About this event
Join us at Southwark Cathedral for this special event with Aled Jones who will be in conversation with the Very Reverend Andrew Nunn, Dean of Southwark as they discuss his career but more specifically Aled's new children's book Bobby Dean saves Christmas which has been illustrated by Southwark based illustrator Rosie Brooks.
This event is suitable for all ages and will take place in the Cathedral nave. Aled and Rosie will be signing copies of Bobby Dean saves Christmas afterwards.
Bobby Dean saves Christmas
Meet Bobby: an ordinary kid with an extraordinary voice!
Sent off to school for the first time in his life, nine-year-old Bobby Dean is busy making new friends, learning lines for the Nativity Play, and trying to not laugh at the head teacher's terrible jokes. But then Bobby Dean discovers that when he sings magical things can happen!
From rescuing kidnapped dogs, helping Santa, and even travelling back in time – Bobby Dean's first term is going to be one full of wonder, adventure, and the magic of song!
Bobby Dean Saves Christmas is a magical and fun packed adventure for kids highlighting the importance of friendship, loyalty, accepting differences and above all being yourself it is perfect to be read aloud or for children to read alone.
'A book full of music, magic & heart' – Dawn French
'A wonderful story! I could hear the music ringing in my ears!' – Amanda Holden
'A magical book about a magical voice from an author who knows exactly how it feels!' – Alan Titchmarsh
Aled Jones
Aled Jones MBE has been a household name since the 1980s and will forever be remembered as one of the world's most successful boy sopranos. He made his professional debut as a 12-year-old performing the role of the Angel in Handel's Oratorio 'Jeptha' on BBC Two and BBC Radio 3 and aged 15 captured the hearts of the nation with his cover of the signature tune to The Snowman: 'Walking in the Air'. He has performed for Pope John Paul II, HM the Queen and the Prince and Princess of Wales in a private recital, as well as presenting numerous radio and television programmes, including for children.
To date, he has released forty albums which have sold millions of copies around the world and he has written four books, the most recent being Everyday Blessings, released with great success in in 2020. Bobby Dean is Aled's brand new and first-ever collection of books for children.
The Very Reverend Andrew Nunn, Dean of Southwark
The Very Revd Andrew Nunn was born in Leicester in 1957. He grew up there and attended primary and secondary schools in Wigston, where he was also a member of the choir of All Saints, Wigston Magna.
Andrew was installed as Dean of Southwark in January 2012. Prior to that, he was Sub Dean and Precentor of Southwark (1999-2010) and Acting Dean from November 2010.
He is a member of the General Synod and the Diocesan Synod.
He is a Foundation Governor of St Saviour's & St Olave's Girls' School in Southwark. He is also Chaplain to the Worshipful Company of Launderers, the Worshipful Company of Innholders and the Whitsters Club.
Andrew contributes to the local church by teaching and speaking at a number of courses and events in the Diocese of Southwark and further afield outside the Diocese. He is a member of the General Synod of the Church of England and on the Panel of Chairs of the Synod. He has served as a member of the Crown Nominations Commission since 2011. He was Rector General of the Society of Catholic Priests until October 2017.
Rosie Brooks
Rosie draws pictures. She works mainly in pen and ink and watercolour and occasionally in other mediums for larger scale projects.
After studying Music at Durham, Rosie completed her Masters in Children's Book Illustration at The Ruskin School of Art, Anglia Ruskin University, Cambridge where she was shortlisted for the Macmillan Children's Book Prize.
Rosie's work has appeared in children's books, advertising, PR and marketing campaigns, editorial publications and she has collaborated with many diverse brands and clients. Her work as also been animated for a number of idents for both screen and web.
Rosie's illustrations have appeared in a large number of children's books as well as across many advertising and marketing campaigns, for charitable and educational institutions and as for a number of corporate brands.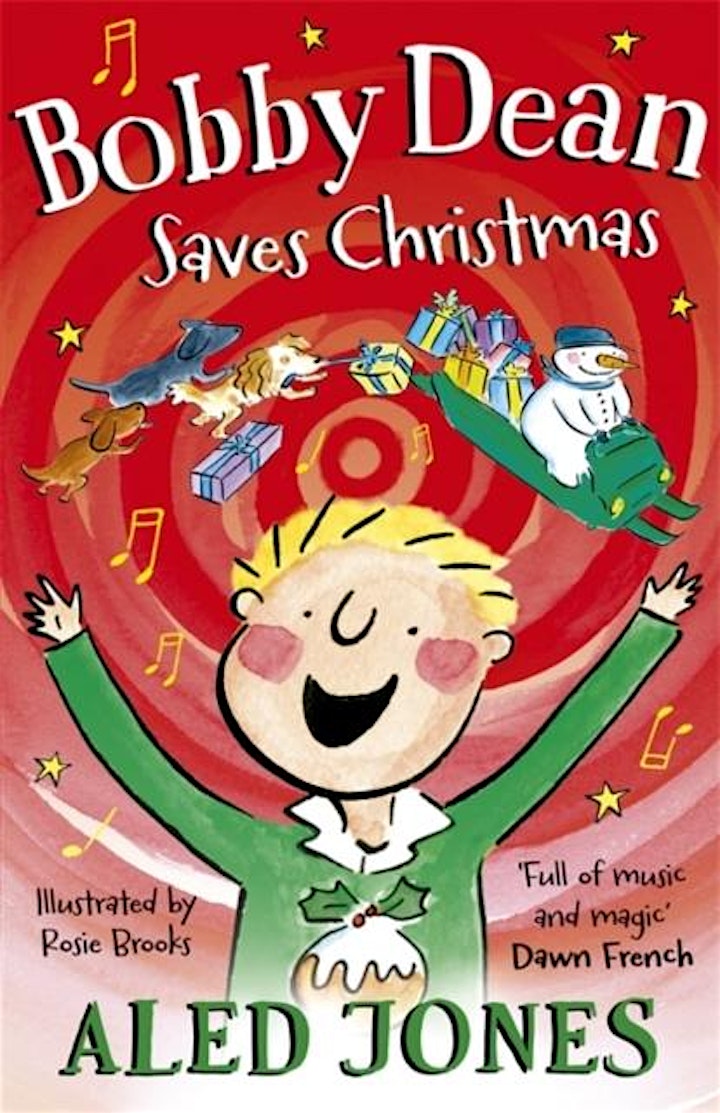 Organizer of Bobby Dean Saves Christmas with Aled Jones
Southwark Cathedral has been a place of Christian worship for over 1000 years. Established as a small convent, it grew over the centuries into a priory, which became a parish church and then, in 1905, the Cathedral for the newly created Diocese of Southwark which serves the whole of London south of the river.
The Cathedral's patchwork architecture bears testament to its past as do the many monuments and memorials inside and outside the church. These are reminders of the rich history of this part of London and our association with such major figures in our creative history, including Chaucer, Shakespeare and Dickens.
Southwark Cathedral is a place of worship, welcome and friendship, to rejoice in or find rest when you're weary. We are London's community Cathedral striving to live the example of Jesus, seeking to be a spiritual home for all and set at the heart of Bankside, buzzing with people and activity, a vibrant cultural and commercial destination.