Launch for Bobby's Origin Myths & Shakedown in Slabtown LPs feat Sunflower Thieves, Sunstack Jones, Sister Wives, Nick Jonah Davis & elkyn.
About this event
I've put out two albums in the last year and not been able to throw a launch party for either, so to top off my debut solo tour, I've pulled in a bunch of friends, old and new, together for an afternoon get together.
We've got....
elkyn
weird n lonely folk
https://elkyn.bandcamp.com/
Nick Jonah Davis
solo guitar wizardry
https://nickjonahdavis.bandcamp.com/
Sharron Kraus
sharronkraus.com
Sister Wives
Bilingual dreamweavers
https://sisterwivesmusic.bandcamp.com/merch
Sunstack Jones
shimmering west coast jangle pop
FFO: Buffalo Springfield, All Things Must Pass, early Verve, The La's
https://sunstackjones.bandcamp.com/
Bobby Lee
"worn denim instrumental psych country"
https://bobbyleeplaysitslow.bandcamp.com/
Rough timings:
3.00 Bobby Lee (Solo Acoustic Set)
3.45 elkyn
4.30 Nick Jonah Davis
5.15 Sunflower Thieves
6.00 Sister Wives
7.00 Sunstack Jones
8.00 Bobby Lee (Full Band Set)
Tickerts £10adv via Eventbrite (includes downloads of Shakedown in Slabtown and Origin Myths. Download codes supplied on entry.) More on the door.
Origin Myths: http://www.tompkinssquare.com/bobbylee.html
Shakedown in Slabtown: https://www.ravensingstheblues.com/bobby-lee/
See less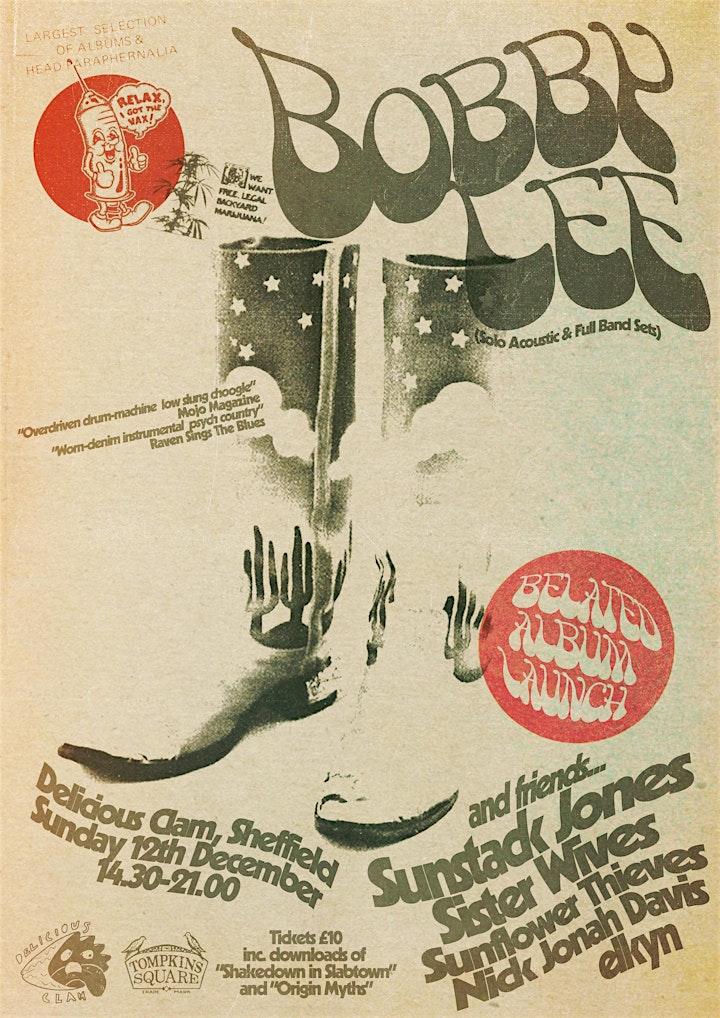 Organiser of Bobby Lee & Friends - Belated Album Release Show
Heretics' Folk Club welcomes balladeers, hauntologists, super-8 soundtracks, audio-archaeologists, proto-psychedelicists, throat singers, analogue electronics, sound artists, field recordists, ethnomusicologists, occult circuit-benders, traditional dancers, drones and free noise.

Previous guests include: Mike Heron, Trembling Bells, Alasdair Roberts, Sharron Kraus, C Joynes, Nick Jonah Davis, The Family Elan, Jim Ghedi, The Lords of Thyme, Death Shanties, Serious Sam Barret, Trappist Afterland, Big Eyes Family Players, The Kitchen Cynics, Rapunzel & Sedayne, Cath & Phil Tyler, Akke Phallus Duo, Toby Hay, Sophie Williams, English Heretic, Telling The Bees.