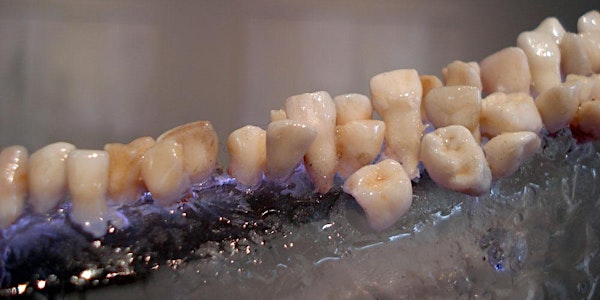 Bodily Matters II Architectural Matter: Bone & Teeth
Event Information
Location
University College London
Institute of Advanced Studies, Common Ground
South Wing, Wilkins Building
London
WC1E 6BT
United Kingdom
Description
The second in the Bodily Matters seminar series, this session will focus on biomatter that gives the human form strength and structure - bones and teeth. Teeth and bone have powerful symbolic cultural associations with mortality, aging and death, and have been used in the visual arts and medicine as both memento mori and anatomical teaching tools. In this session, contemporary sculptor and installation artist Gina Czarneki will discuss her 2012 work Palaces, which incorporates thousands of donated milk teeth. She will be joined by bioethicist and lecturer at Yale Interdisciplinary Centre for Bioethics, Dr. Heidi Nicholl, who will discuss ethical issues surrounding the use of human bones in art practice.

Guests will also have the opportunity to view a small exhibition of teeth and bone specimens from UCL Pathology Collections, which will be on display as part of Dr. Angel's ongoing research project Looking, Feeling, Knowing: The politics of seeing in medical collections of human remains after the Human Tissue Act.
Gina Czarneki, Visual Artist - Palaces
Milk teeth have a particular multi-cultural significance as a symbol of transition and of progress. Stem cells can, allegedly, be extracted from these teeth and may in the future be used to repair or remake damaged organs. Palaces was formed, like much of my works, from numerous inputs that are a melting of present and past experiences, knowledge, memory. A palace or a castle represents ancient power systems. They represent protection, a refuge, a place of dreams and magic. Architectural constructs and constructs of the imagined. Palace represents too our belief in these constructs and in established systems of authority. It alludes to belief systems and what we hold to be true or fantasy.
As more teeth are donated, the sculpture will begin to grow like coral as I continue to add teeth. There will be clusters of teeth forming in parts of the palace just like barnacles gather in areas and spread, or crystals form and grow. The crystal resin structure will always be visible. As more donations of teeth arrive this will gradually cover more and more of the crystal resin structure but will never completely cover this form.
Dr. Heidi Nicholl, Yale Interdisciplinary Centre for Bioethics - The Use of Human Bones in Art: A Clinical Ethics Consultation
Frameworks are a useful tool to analyse details of individual cases and to generate pertinent ethical questions and key concepts that require further analysis. One method of undertaking clinical ethics consultancy utilises a framework called 'The Four Box Method'. In this seminar I will use an adapted version of this case-based approach to explore the ethics of using human bones in art. We will investigate what is at issue, the nature of the ethical conflict (if any) and whether there are previous cases from which to draw inferences. By using this paradigm I seek to explore how human remains can be viewed in a similar way to the un-represented patient.
Date and time
Location
University College London
Institute of Advanced Studies, Common Ground
South Wing, Wilkins Building
London
WC1E 6BT
United Kingdom