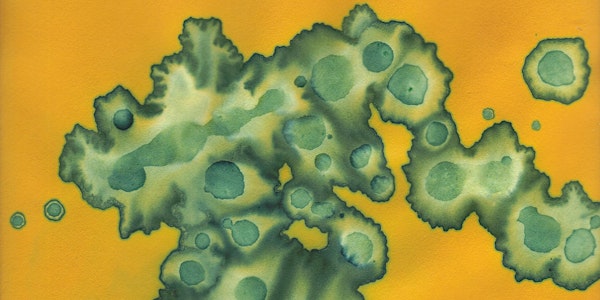 Bodily Matters III Generative/Nutritive Matter: Semen & Breastmilk
Location
University College London,
Institute of Advanced Studies, Common Ground
Gower Street
London
WC1E 6BT
United Kingdom
Description
IMAGE CREDIT: Spent, Jordan McKenzie - Universal Litmus Paper, artist's semen 2009
The third in the Bodily Matters seminar series, this session will focus on generative, nutritive and fluid biomatters - semen and breastmilk. As bodily fluids associated with the gendered body, reproduction, nurturance, sexuality and intimacy, semen and breastmilk are imbued with powerful symbolic value, and are frequently surrounded by cultural taboos. In this session, artist Jordan McKenzie will discuss his semen drawing series, Spent (Litmus) in relation to queer bodily production. He will be joined by professor of political aesthetics at Birkbeck, Esther Leslie, and artist and senior lecturer at the Slade School of Art, Melanie Jackson, who will present a lecture on their current collaborative work focused on breastmilk.
Guests will also have the opportunity to view a small exhibition of specimens from UCL Pathology Collections, which will be on display as part of Dr. Angel's ongoing research project Looking, Feeling, Knowing: The politics of seeing in relation to medical collections of human remains after the Human Tissue Act.
Jordan McKenzie - Getting Jizzy With It: Auto-drawing and Queer Bodily Production.
Jordan McKenzie will talk about his practice of queering the canon, attempting to find ways of inserting acts of queerness into the heart of art production and its historical framings. Using satire and performative actions, his work around drawing and the wider series of interventions into Minimalism deliberately highjack claims to originality and authenticity in arts practice.
Professor Esther Leslie & Melanie Jackson - Unreliable Matriarchs
In the mythic origin stories of the Milky Way, breastmilk is violently sprayed across the heavens in a struggle between Gods and wives over the control of the supply of milk and of reproduction. Through history, it becomes no less contested a substance. The efforts to separate milk from the body are sustained, as attested, for example, in the debates around wet-nursing. Certain bodies are charged with milk production, others dissuaded. But there is a more fundamental separation of milk from the body, in order to ensure supply as an industrial staple. Through milk formula, milk emerges as a cipher of industrial modernity. Milk is the only human 'fluid' that in the recent past was perceived to have been 'transcended' by a technologised counterpart. Today it is one of the most variously technologised substances on earth. Only now are its biodynamic adaptive properties beginning to be fully apprehended. This illustrated talk will explore representations of lactation, of giving suck, and its powdery reformulations, across a wide historical span.
A collaborative lecture based on material from the forthcoming book by Melanie Jackson and Esther Leslie.
---
Presenter Biographies:
Jordan McKenzie is a performance maker and visual artist based in London. He has exhibited both nationally and internationally in galleries, festivals and arts centres including Shame Chorus, Freud Museum (2015) Carl An(t)dre, Yorkshire Sculpture Park, (2014) An Englishman Abroad, KASA Gallery, Istanbul (2014) What's Next for the Body?, Arnolfini Gallery, (2011) Exhibitionism, Courtauld Institute, (2011). His curatorial projects include LUPA (Lock Up Performance Art) a performance space run from a disused garage on the council estate where he lives in East London, (2011-13) Co-curated with Aaron Williamson and Kate Mahony, Look At The (E)state We're In (2014) major international conference about art and the council estate, Live(E)lseWhere (co-curated with The Drawing Shed 2014). He has received major arts bursaries from Arts Admin and The Live Art Development Agency and been an artist in residence in numerous countries including I-Park Massachusetts, USA (2012), OVADA Gallery, Oxford (2005) and Sutra Arts, Nepal (2004). He is currently a senior lecturer in Drawing at The University for the Arts, London and visiting lecturer in Critical and Contextual Studies at Kingston University.
Esther Leslie is Professor of Political Aesthetics in the Department of English and Humanities at Birkbeck, University of London. Her books include Walter Benjamin: Overpowering Conformism (Pluto 2000), Hollywood Flatlands, Animation, Critical Theory and the Avant Garde (Verso 2002),Synthetic Worlds: Nature, Art and the Chemical Industry (Reaktion, 2005), Walter Benjamin (Reaktion 2007), Derelicts: Thought Worms from the Wreckage (Unkant, 2014) and Walter Benjamin: On Photography (Reaktion, 2015).
Melanie Jackson has exhibited work internationally including Dojima River Biennale, Osaka, ZKM Karlsruhe, Art Gallery New South Wales, Sydney, Museum of Contemporary Photography, Chicago. Solo UK exhibitions include Flat Time House, John Hansard Gallery, The Drawing Room, Arnolfini and Matt's Gallery, where she is also represented. She was shortlisted for the Whitechapel Maxmara Award in 2010 and winner of the Jerwood Drawing Prize in 2007.

---