Sales Have Ended
Ticket sales have ended
Thank you for booking a place on Body Rhythms - Dance for Wellbeing. Please check your inbox for your ticket and details on how to join class.
Give yourself some self care and engage mind and body in a dialogue of movement, rhythm and dance to let go, have fun and release stress.
About this event


Move with the rhythm of the beat, in harmony with your own beat in this fun and enjoyable online class that uses a creative and centred approach to improving your health and wellbeing, through movement and dance.
Engage in the art of self-care and learn how to allow yourself to let go, have fun and simply move what you feel from within. This class will enable you to creatively explore your physicality through the experience of movement, rhythm and dance, allowing you to learn and discover your body's capacity for self- care. You will engage in gentle, uncomplicated dance exercises and sequences that will allow you to access and connect more freely with your body. The class is influenced by various therapeutic body-work practices, movement meditation, breath work, dance and relaxation techniques.
The class is supported by great music to allow participants to relax, develop their musicality, and awareness of self through an embodied experience.
Simply allow yourself to let go while moving, breathing and being, in this fun and enjoyable online class that will leave you feeling energised ______________________________________________________________________________________
BOOKING A CLASS:
PLACES ARE LIMITED, SO WE RECOMMEND PARTICIPANTS BOOK THEIR PLACE AS SOON AS POSSIBLE TO AVOID DISAPPOINTMENT.
Please note that by making a booking to attend this event, you are taking full responsibility for your health and safety, for the duration of this online class.
_______________________________________________________________________________________
SUITABILITY:
The class is a general level class and suitable for anyone who wants to experience embodied movement and dance.
If you have any questions regarding suitability in regards to your health, please contact Movement Angol Dance at: info@movementangol.co.uk or speak to a medical professional.
WHAT YOU WILL ACHIEVE:
The experience will allow you to engage with a range of movements, develop your flexibility, co-ordination, balance, stamina and improve your general health and wellbeing.
WHAT YOU WILL NEED:
Please wear clothing that does not restrict your movement and allows you to adapt to changes in your body temperature. Bare feet, anti-grip socks or any other soft foot wear that does not restrict your movement or compromises your health and safety.
JOINING THE SESSION:
AN EMAIL HAS BEEN SETUP WITH THE ZOOM LINK, THIS WILL ARRIVE IN YOUR INBOX AFTER REGISTRATION. A FURTHER REMINDER WILL BE SENT 1 HOUR BEFORE THE CLASS IS DUE TO START. IF YOU CANNOT FIND THE EMAIL, PLEASE CHECK YOUR JUNK FOLDER.
If you need further assistance, please EMAIL us directly at: Info@movementangol.co.uk / O7944 815654
So stay safe and in good spirits, and we look forward to meeting you for a creative shared experience on the day.
_______________________________________________________________________________________
1 TO 1 BOOKING OPTION AVAILABLE:
This event is also available to be booked as a 1 to 1 class that caters for participants' individual needs at a fee of £20 / 1½ Hours.
TO BOOK A PERSONAL 1 TO 1 CLASS, PLEASE CONTACT FRANCIS AT: INFO@MOVEMENTANGOL.CO.UK, OR CALL ON :07944 815654 TO MAKE A BOOKING
_______________________________________________________________________________________
TUTOR: FRANCIS ANGOL
APPROACH TO TEACHING
The approach taken to my work is deeply rooted in the spirituality of the self, a way of life that taps into the unspoken rhythmic dialogue of mind and body, to form a unique cultural synthesis in movement form.
My professional career as performer / choreographer, dance lecturer and Somatic Movement Educator / Therapist, has allowed me to gain and develop a vast knowledge and understanding of the empowering properties of movement and dance. It is with this knowledge that I enable people, by creating opportunities for intercultural exchange and dialogue through movement and dance.
My work synthesises cultural traditions with contemporary norms to offer people a space for self-actualisation, through exploration and expression. I strive to encourage change by influencing the future, through impacting the present with work that is accessible, inclusive and is physically and mentally empowering.
I work to synthesise my accumulated knowledge of dance and the arts with that of my lived experience, to help individuals bring clarity, meaning and understanding to their physical and mental body, so that they can reach a place of optimum physical and mental wellbeing.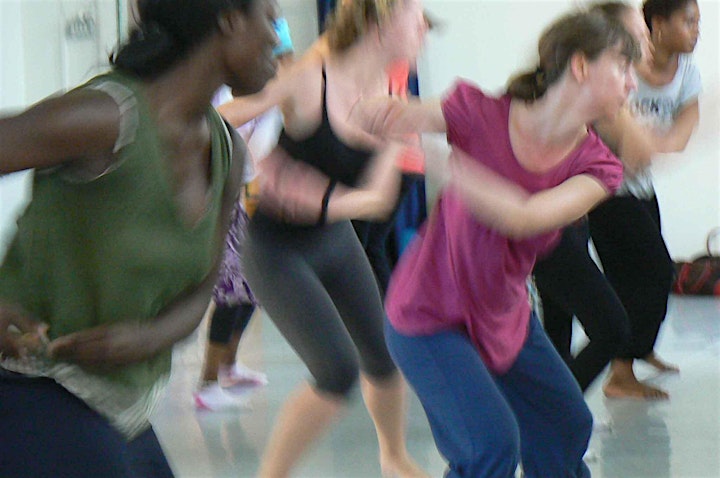 Movement Angol Dance - Where movement is our business, creative living, learning and wellbeing our art
info@movementangol.co.uk, +44(0) 7944815654