Description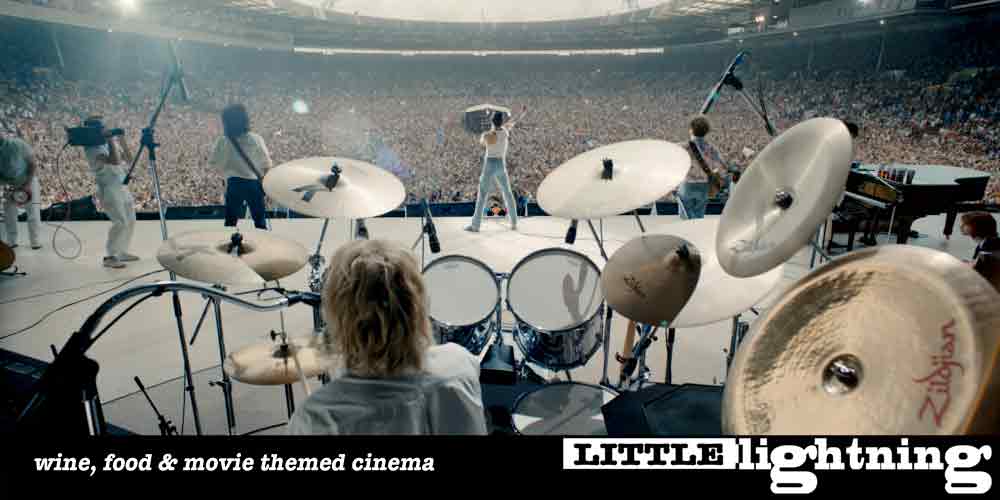 The Little Lightning pop-up arthouse cinema returns to Lurgashall, West Sussex.
Little Lightning presents the closing film of our 3 cinematic weekends in the South Downs National Park with Bohemian Rhapsody.
This film has been a roller-coaster for the producers, but a ride that has caught out the critics as it delivers a fabulous celebration of Freddie Mercury and Queen and some ornaments to boot.
Pure pleasure permeates Bohemian Rhapsody, a joyful, impish portrait of Freddie Mercury and Queen that doesn't worry about making the case for these artists' greatness but does persuasively argue that being in a rock 'n' roll band is a blast.
Appropriately for a group known for its theatrical, crowd-pleasing tunes, this authorised-by-the-band biopic carries itself lightly, serving up familiar plot points with panache and a sense of humour, while at the same time investing in the story's emotional through-line, building to a genuinely moving climax. But just as Queen would have been nothing without Mercury's arresting, sexy presence, so too is Bohemian Rhapsody dominated by Rami Malek's magnetic, frisky and unexpectedly poignant performance as the late lead singer.
Much like Mama Mia, Bohemian Rhapsody delivers a cinematic experience for rock loving movie-goers. The film is a relatively straight-forward one, yet delivers multiple incredible Queen hits with performances to match.
Queen on the big screen, turned up to feel it, just as they played it and Live Aid, arguably the best live performance ever - what's not to like.
Tickets include a wlecome drink and 2 course meal, all from and themed to the film country of origin, Tanzania - well we thought Freddie's country origin was more inspiring and celebratory than english, I hope you agree..
The event starts at 6pm with dinner served before the film commences.
Our cosy bar opens at 6pm and continues through until 11:30. As with all our events, guests are invited to socialise and re-fuel glasses during the short interval and after the film.
We're located just behind Lurgashall green with plenty of parking at the venue. The exact location can be found on our website, www.littlelightning.uk/location.html
This event is joined by 5 other films between July and September, each including sparkling wine and a two-course meal inclusive for £19 (Early Bird ticket).

We look forward to welcoming you for a gorgeous informal evening, see you there.

PLEASE NOTE:
We will be serving a delicious two course set menu and are unable to cater for specific dietary requirements.
Tickets are strictly limited and NOT available on the door.