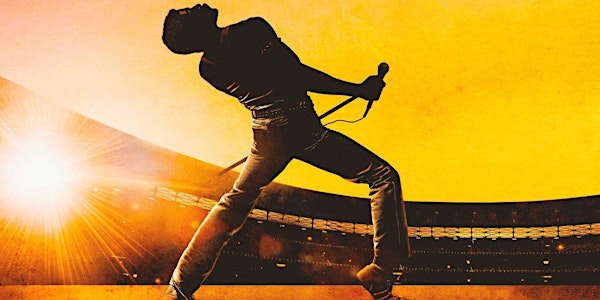 Bohemian Rhapsody Outdoor Cinema Cambridge
Event Information
Location
Fen Ditton Recreation Ground
Church Street
Fen Ditton
Cambridge
CB5 8SX
United Kingdom
Join us for a mid-summer evening of entertainment in the beautiful village of Fen Ditton Cambridge
About this event
This Event is Sold Out. The Information below is for ticket holders.
Thank You for purchasing tickets we look forward to welcoming you to our fundraising event on Friday evening. The information below has been provided to address FAQ's and ensure an enjoyable evening for All. Please read through and familiarise/forward to your guests.
No chairs or blankets provided.
Please bring your own camping/deck chairs, cushions, picnic blankets etc. The weather is forecast to be dry but not warm late in the evening. Warm clothing, blankets and a torch recommended.
Evening starts & gates open at 7.30pm
Last entry for pedestrians and cars 9.00pm.
Film will start at approx. 9.15pm.
Evening finishes at the end of the screening approx 11.30pm. We ask guests to leave promptly & quietly respecting local residents.
Gate locked at midnight, any cars remaining will need to be collected by arrangement with the organisers the following morning.
Overnight camping is not permitted
The Recreation Ground will be closed for the event and open to ticket holders only from 7.30pm. via the main entrance on Church Street. At the entrance you will be asked to verbally confirm you have tickets & directed to the check in desk for these to be seen. The check-in will be on the field before the entrance to the marked out arena. All guests are required to enter the marked arena via the check-in where wrist bands will be allocated. Any one noted not have a wrist band will be asked to leave. Check-in will have a guest list against the name on the ticket.
Parking restrictions will be in place on the surrounding narrow roads to the Recreation Ground. Car Parking will be provided on the Recreation Ground at £2 per car. Please have the correct change ready to pop in the bucket at the entrance. You will be directed for parking, please park, then go with your guests directly to the check in desk.
Bicycles can be locked against railings.
Food & Bar
The Bar, Refreshments & Snack Table will be open throughout the whole evening. Run by volunteers these sales are important to our fund raising please do support them. We will have a card reader on the bar and refreshment/snack table, however at busy times cash is likely to be more efficient.
Bar: All alcoholic drinks £3; non-alcoholic £1
Stock: Beer; lager; wine; vodka; small selection of gins; soft drinks.
Refreshments & Snack Table: All items (drinks & snacks) £1
Stock: coffee; range of teas; cordial sparkling/still; hot chocolate; still/sparkling water
Brownies; flapjacks; lemon drizzle; mini-magnums; popcorn (lots!); crisps
Hot Food is brought to us by Villa Food and Wine from 7.30pm to 9.00pm. On the evening @£6.50 from The Horsebox :Slow Roasted Suffolk Pulled Pork in a freshly made bun with a choice of homemade honey mustard or parsley sauce or a Stacked Halloumi burger with homemade relish.
Advanced 'Meal Deal' tickets need to be redeemed between 7.30pm-9.00pm. At check- in tokens will provided to exchange for your food order at the Horsebox. Your order will be ready for you.
Some Do's & Don'ts
We want you to have fun, sing and dance but please be considerate for others around you. If you want to dance during the film please go to the side with your friends so as not to interrupt the view of the screen for others.
Smoking / Vaping is permitted on site but only to the side and back of the event.
Disorderly or intoxicated behaviour that impacts on others guests will not be tolerated and we reserve the right to ask such guests to leave.
Well behaved and quiet dogs are welcome but we reserve the right to ask you to leave if they are disturbing the enjoyment of the film for others.
Now, that's all done, here's to a Great Evening! Friends of fen Ditton Recreation Ground Trust
Date and time
Location
Fen Ditton Recreation Ground
Church Street
Fen Ditton
Cambridge
CB5 8SX
United Kingdom