Actions and Detail Panel
Bokwa Fitness Features @ Move Fit - ExCel London
Fri, 10 Mar 2017, 18:00 – Sun, 12 Mar 2017, 18:00 GMT
Description
MOVE FIT is a new fitness & lifestyle show co-located alongside MOVE IT, the UK's biggest dance event.

MOVE FIT is an exciting new female fitness show dedicated to celebrating an active and healthy lifestyle!

Over the three days, visitors to our unique show can try out over 100 new and exciting classes and workshops ranging from high energy HIIT to weight based exercise to holistic laughter yoga! The stunning MOVE FIT programme will be delivered by industry-leading fitness presenters and influential teachers from around the UK and Europe.

Visitors will have access to all the latest trends in fitness wear, fitness equipment, food and nutritional advice and samples, class providers, fitness training and qualifications and absolutely everything you could possibly need to compliment your healthy lifestyle.

If you love to catch up with friends over an exercise classes, like to try new things to spice up your workouts, and want to be motivated and inspired with your active lifestyle – MOVE FIT is the place to be.


More about MOVE IT

Over 24,500 dancers – three days – performances, classes, career advice, celebrities, interviews and shopping!

MOVE IT is your chance to celebrate all forms of dance and the performing arts. Watch breath-taking Main Stage performances, take part in dance classes, discover dance career opportunities in the MOVE IT PRO series, brush up on your acting and vocal skills in performing arts workshops and shop for all your dancewear needs.

No matter what level you are – there is something for everyone and a glorious celebration of all things dance and performing arts at MOVE IT


Join Creator & CEO of Bokwa Fitness Paul Mavi Sr., along with his UK & International BEST team for an exhileaating Bokwa Experience

BEST Team will include: Akile Alexander, Neil Coats, Dominique Partlett, Kim Voung, Aline Vogel, Rene Lomanga & more that along the way

BOKWA SCHEDULE..............



Friday - 10th March 2017
01:30pm - Bokwa Dance (Main Stage)
02:30pm - Safari Cycling Masterclass (available to book at www.movefit.london only)

Saturday - 11th March 2017
10:30am-12:00pm - Bokwa Bash Mastercass (Dance Fitness Arena) To include Bokwa Dance & Punch & Strike
12:30pm - Bokwa Step & Up (still to be confirmed)
02:30pm - Safari Cycling Masterclass (available to book at www.movefit.london only)
04:15pm - Punch & Strike with Rene Lomanga

Book Your Bokwa Bash Masterclass ticket and receive a FREE ticket and full access to both the Move It & Move Fit events

If you already have your Move Fit ticket - Purchase your Bash ticket seperately using the ticket links provided

Sunday - 12th March 2017
Certification and Instructor Training Day

09:00am - 06:00pm - Bokwa Expert Training with Akile Alexander (UK Bokwa B.E.S.T.)
01:15pm - Punch & Strike Demonstration (Main Stage) (will take place during ucnh break of BET training)
02:30pm - Safari Cycling Masterclass with Kim Voung

The first 10 people to book onto the training will receive a FREE ticket and full access to both the Move It & Move Fit events

Book your training here:
https://bokwafitness.com/en/workshop/bokwa-expert-training-march-12-2017-london-united-kingdom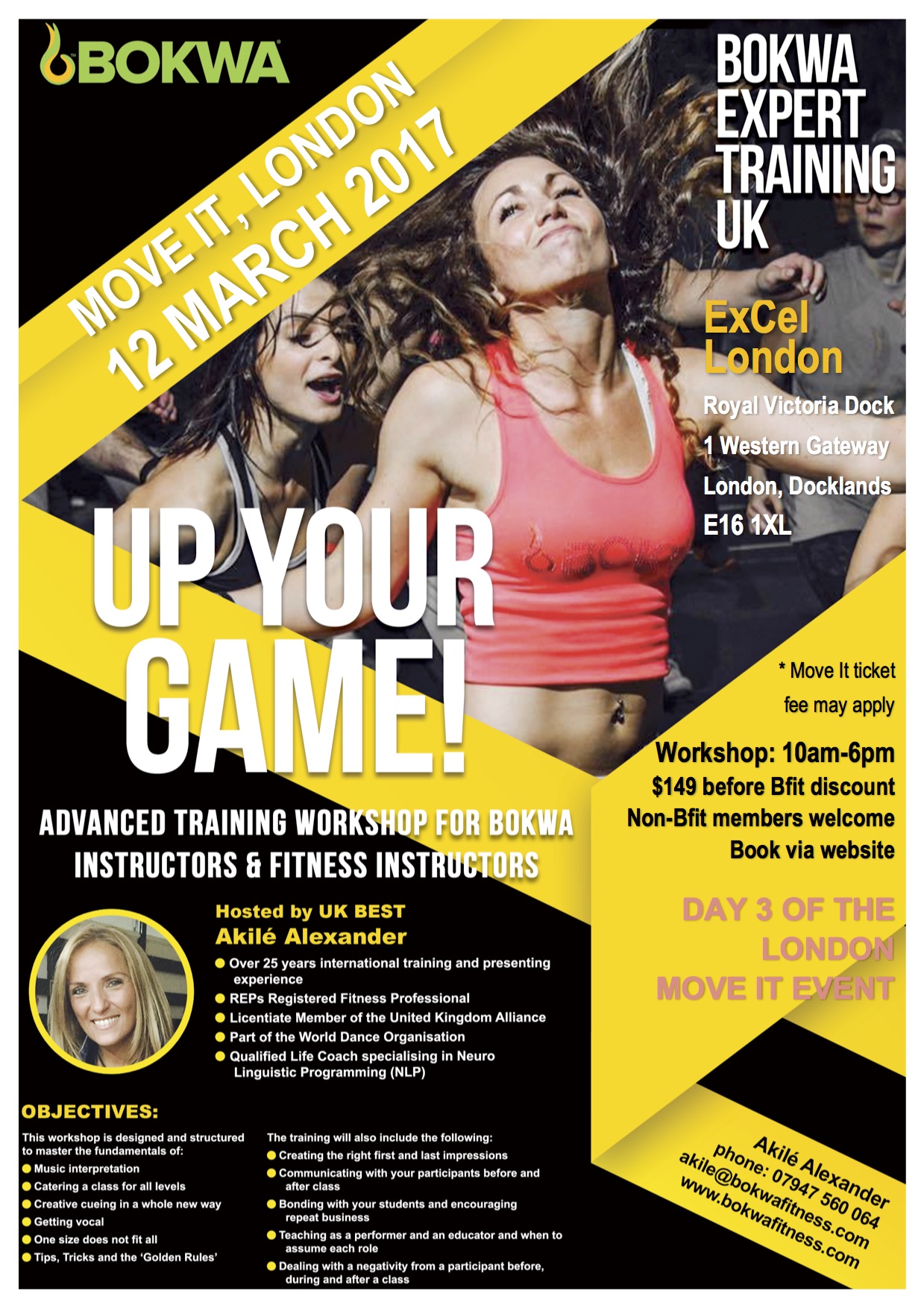 FAQs
How can I contact the organiser with any questions?
Contact Akile Alexander - 07947 560 064

Do I have to bring my printed ticket to the event?
Yes please ensure you have I with you as proof