Join Surtal Arts for an uplifting virtual dance-along !
About this event
Nisha Nath (pictured) leads us in dance for International Women's Day (IWD)! Push back the sofa, and dance for the feel-good, fun, movement, togetherness & shared experience.
Who for: Primarily for women / womxn in Derby/shire, and children 5yrs+ with adult supervision, but this is virtual so you can join us from wherever you are! For groups / households / support bubbles who can watch together you can book one ticket to join the virtual event together. All self-identifying women, and non-binary folx who feel affinity or siblinghood in spaces that centre the experiences of women, are welcome.
Surtal Arts is a Derby based combined contemporary arts organisation with specialism in South Asian arts, culture & heritage. It exists to inspire and bring artists and communities together to share and create cross-cultural experiences and enrich the lives of people in the East Midlands.
It delivers a range of Indian dance, music and visual art workshops in the community and at schools. Surtal uses the arts innovatively to address physical and mental health well being and break down barriers and build social cohesion.
For all enquiries please contact Surtal Arts info@surtalarts.co.uk or 07986640448 or visit www.surtalarts.co.uk
How it works: Once you make your booking you will be able to log in to eventbrite to access the Online Event Details with the info and weblinks to join this online event on the day; you will also get an email reminder with a link to the event info.
Access: When booking there is a question about access - please inform us in advance of any access requirements to enable you to take part, ideally by 15th February so we can get everything ready for you, but if after this date we will try our best to make arrangements. Auto 'Live transcript' can be displayed on request.
The session includes warm-up and dance movements to copy; this workshop will be delivered online via a web-based video calling service. To access this event, you'll need an internet connection, and a computer or device that has a webcam and microphone (most laptops, ipads and phones have a built-in camera and microphone). The link to join will be emailed to you ahead of the session via eventbrite.
Financial hardship? Need free tickets? We offer 'Donate what you can' tickets to help us cover the costs of putting on this volunteer-run festival but if you don't have money to spare and want to take part we want to help - free tickets are also available via the Register button - we are also issuing free tickets via various local women's charities as always to reduce barriers to participation. Love and solidarity x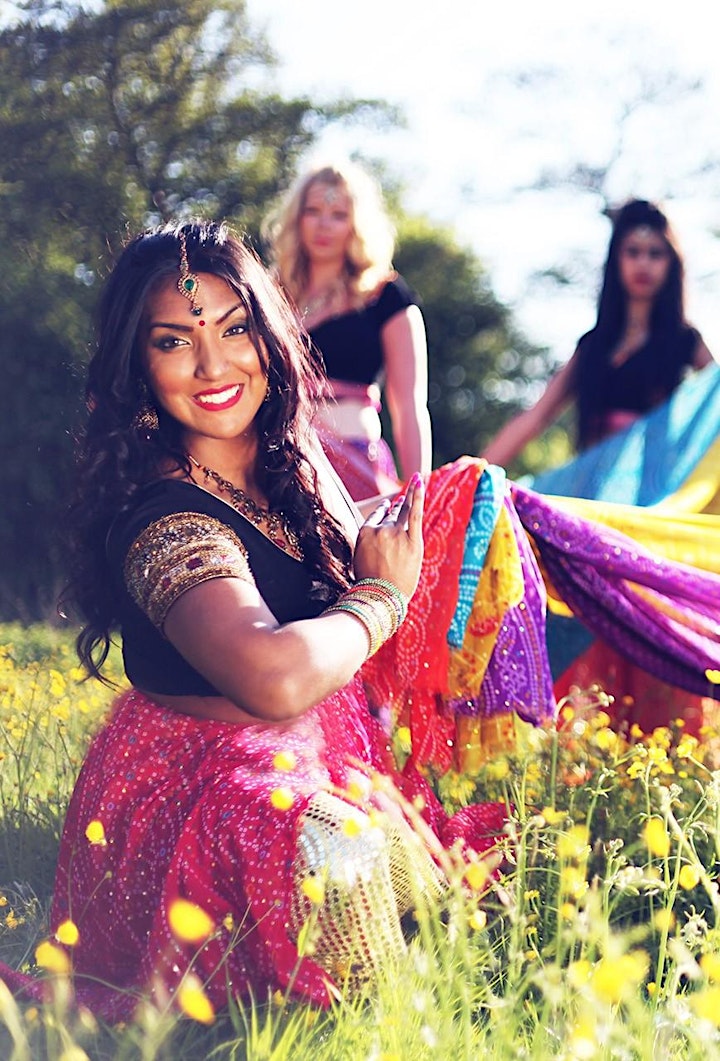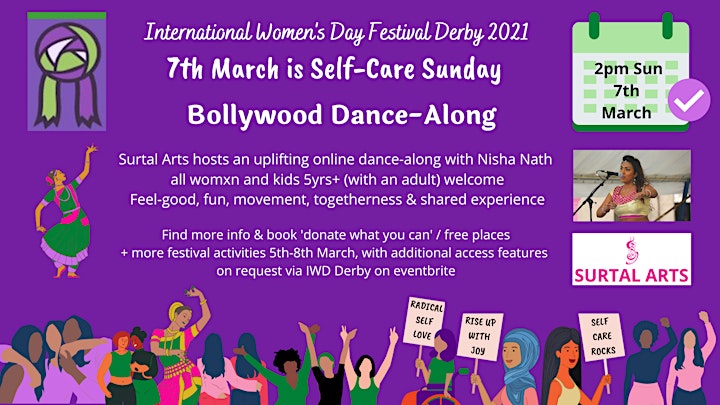 Organiser of Bollywood Dance-Along
International Women's Day (IWD) Derby is a voluntary group running inspiring events by and for the community to advance the equality and quality of women's lives.
The IWD Festival is the flagship annual event, with other fundraisers, community workshops and collaborations during the year to create a brighter, safer, fairier future for women and girls