Description
EARLY BIRD TICKETS SOLD OUT
SECOND RELEASE TICKETS SOLD OUT
FINAL RELEASE TICKETS NOW ON SALE
SELECT FROM THE DROP DOWN MENU TO CHOOSE YOUR STATUS - ADULT, CHILD OR STUDENT.
IN-ORDER TO CHOOSE YOUR SEATS YOU WILL NEED TO COMPLETE YOUR BOOKING VIA A DESKTOP / LAPTOP COMPUTER. IF USING A MOBILE PHONE OR TABLET TO BOOK YOUR TICKETS, YOUR SEATS WILL BE AUTOMATICALLY ALLOCATED.
FOR GROUPS OF 10 OR MORE, PLEASE EMAIL GROUPS@BOLLYWOODFEVER.CO.UK FOR GROUP BOOKING RATES.
---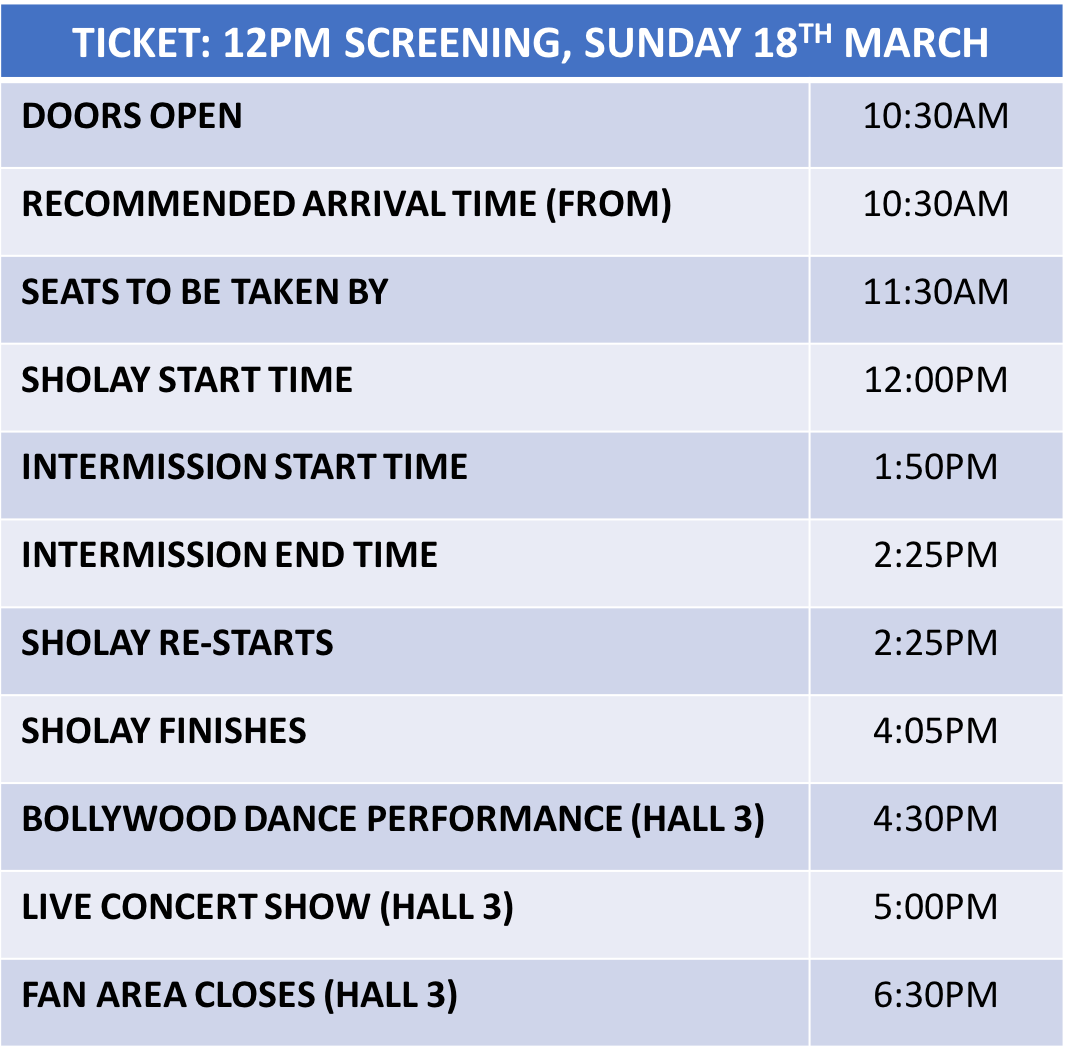 ABOUT THE FILM:
After his family is murdered by a notorious and ruthless bandit, a former police officer enlists the services of two outlaws to capture him. Over 300 people took part in the process to convert this iconic movie into 3D digital format, where every scene had to be individually restored, colour corrected and re-composisted in 3D to match the depth! The music was Re-Composed and Re-Created by Raju-Singh.
Director: Ramesh Sippy
Stars: Amitabh Bacchchan, Sanjeev Kumar, Dharmendra, Amitabh Bachchan, Hema Malini, Jaya Bhaduri, Amjad Khan
Certifcation: PG
English subtitles
Screening room: HALL 1
In addition to the screening, your BOLLYWOOD FEVER ticket provides you access to the Birmingham ICC for the whole day of your chosen screening. At the venue in Hall 3 you can enjoy a selection of drinks from our pop up bar, street food desi style, plus sample the specially selected entertainment, mehndi, photobooths plus much more.
We encourage you to join in the funny and make this a weekend to remember by dressing up as your favourite character! The Bollywood Fever team will be awarding gifts to individual(s) at each screening for the 'best dressed character'.
ABOUT BOLLYWOOD FEVER:
The venue – will be the home for fans of Bollywood, immersing you in an experience capturing everything from the tear-jerking melodrama to the eye-catching dance sequences as the centrepiece screening for 2018 is the Indian epic SHOLAY! A must visit for all Bollywood Fans...
TICKETS
What happens when I buy tickets online?
When you purchase your ticket from www.eventbrite.co.uk you will be issued with an e-ticket, which will be sent to the email address provided at the time of booking. There will be no paper tickets sent out, so make sure you save the email containing your e-ticket or you may also print the ticket and bring it with you on the day.
What does my ticket get me?
Purchasing a ticket to Bollywood Fever grants you access to the screening of SHOLAY at the time as noted on your ticket and entry to the Fan area at any point on the day of your screening. Once all screening tickets for Sholay have sold out we will release Fan area only tickets for general release. In the Fan area, we will have scheduled Bollywood dance workshops, street food – desi style, bars, photo opportunities, art displays, mehndi plus street entertainers. NOTE Early bird discounted tickets will go on first release in December for a limited time only.
What if I can't print my e-ticket?
If you are unable to print your e-ticket you will be able to gain by showing your confirmation e-mail on your mobile phone or electronic device.
What happens if I didn't receive my ticket confirmation email?
If you did not receive your ticket confirmation email, please click on 'Contact the organiser' on our Eventbrite event page and we will look into your issue for you.
What is your refund / ticket exchange policy?
Once the ticket purchase has been completed all tickets are non-refundable. If you are unable to attend you may transfer your ticket to a friend or family member as is stated on the terms and conditions of your ticket.
Can I buy tickets on arrival?
Tickets are subject to availability on the day. Tickets to the screening of Sholay are expected to sell out quickly but you can check the BOLLYWOOD FEVER Twitter for more information on the day. TWITTER LINK CLICK HERE
Are there concessions for disabled visitors and their carers?
Carers are eligible for a free ticket to the show but this must be pre-arranged. Please contact carers at bollywoodfever.co.uk for more details.
I have booked a ticket but would like to change to a different day, how can I do that?
If you need to change the date of your film screening please contact us through the 'Contact Us' tab on this website and we can check availability. If we are unable to accommodate you on the new date, tickets are non-refundable but you may transfer them to a friend / family member to attend in your absence.
PERFORMANCE DETAILS
What are the film times?
Film times are displayed on your ticket booking site at Eventbrite.
Will there be an intermission?
Yes, there will be an intermission during the screening of Sholay. We will provide enough time for guests to purchase some food and and drink before returning back to your seats for the remainder of the show.
Should we arrive early?
DEFINITELY! Throughout the whole day there will be entertainment taking place in the fan area for you to enjoy and experience including art displays, henna / mehndi artists, Bollywood dance workshops, singers, PLUS there will be an Indian street food market on site for you to purchase any food and / or drink.
If I'm running late, is that OK?
Once the film has started it is difficult to let in audience members and therefore we recommend that you arrive early for the film. Any late-comers please report to the reception and we will show you to your film screening in Hall 1 without causing disruption to those already watching the film.
OTHER
Can I get involved or volunteer?
If you LOVE all things Bollywood especially SHOLAY and are interested in volunteering for a shift and / or getting involved with the Bollywood Fever team then please contact us at stewards@bollywoodfever.co.uk
Can I dress up on the day?
We encourage you to join in the funny and make this a weekend to remember by dressing up as your favourite character! The Bollywood Fever team will be awarding gifts to individual(s) at each screening for the 'best dressed character'.
Are cameras allowed to be used?
No professional recording equipment is permitted but we encourage you to capture images or footage of the event on your phone or personal camera. Feel free to share them on social media and copy us in :)
Instagram

: #BollywoodFeverLDN

Facebook

: BollywoodFeverGlobal

Twitter

: @_BollywoodFever
Please note that by attending Bollywood Fever, you are agreeing that you are allowing press and Bollywood Fever organisers to use your attendance either by way or image, voice or combined in productions and for press.
Is food and drink allowed?
Unfortunately, food and / or drink cannot be brought into the venue performance space. There are food and bar stations on‐site where you can buy alcoholic and non-alcoholic drinks, Indian street food (desi style) and snacks.
Is there a cloakroom?
A cloakroom is available to leave you coats / bags for a small fee.
SAFETY AND SECURITY
Please note that bag searches will be a condition of entry to the venue.
AGE AND SUITABILITY
What is the certification of the movie?
Sholay is certified PG.
Is there a programme available to purchase?
A programme will be available to purchase.
ACCESSIBILITY
The Birmingham ICC is accessible to wheelchair users via both ramps and lifts. Tactile signage is also fitted in the majority of lifts.​
If you're a blue badge holder you can park for free near the main entrance of the ICC. However as spaces are limited they need to be booked in advance. Just call +44 121 780 4949 and the venue will be pleased to assist.
MEDICAL ISSUES
Is the screening suitable for those with epilepsy?
Please note that loud noises, flashing lights and strobe lighting may feature.
Organiser of BOLLYWOOD FEVER presents SHOLAY in 3D - 12PM - 18TH MARCH 2018