We invite you to engage | respond | advocate or argue | with the act and site of Bombshell
About this event
BOMBSHELL (Soft Shell is Dead)
BOMBSHELL is a live spoken word event hosted at The Poetry Club.
Entry from 19:00, performances from 19:30 till 21:30 with intervals.
BOMBSHELL is a Soft Shell event; an open-mic series born in 2018 and presented semesterly by Art Writing at The Glasgow School of Art and Creative Writing at the University of Glasgow.
Returning to The Poetry Club after its remote incarnation as Soft Shell Radio, the evening will collectively share new and in progress work from all participating students.
Bombshell comes as a response: to the boundaries and borders we have been pressed up against; to the limitations of the last two years—the political, ecological and institutional formations we are housed within. Bombshell was born out of a seeking of activeness—a disruption—Bombshell is a moment or state of impact which expands into a widespread aftermath. A cracking, a breaking, an opening.
BOMBSHELL brings together taught postgraduate students at The Glasgow School of Art and the University of Glasgow.
Tickets for this event are FREE.
Tickets have been implemented to manage capacity, we encourage you to book in advance and alert us if there is a cancellation as places are limited.
BOMBSHELL has been put together by students on the Art Writing Graduate Programme at The Glasgow School of Art in collaboration with Laura Haynes, Programme Leader, and Colin Herd, Lecturer in Creative Writing at University of Glasgow.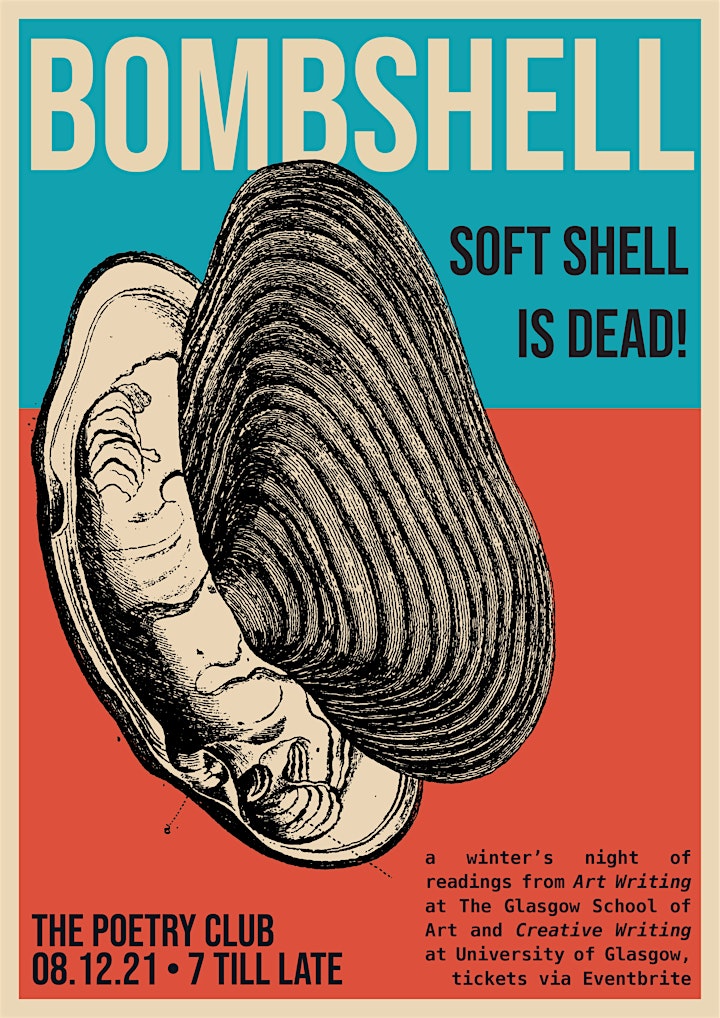 Organiser of BOMBSHELL: Soft Shell is Dead