Description
It's time we stop telling girls they can be anything they want to be and actually show them what it means to be a leader.
BONDED are excited to present the second installment in our Live Event series hosting an intimate screening of 'Dream, Girl'. The all-female film documentary, that follows the paths of five female entrepreneurs as they go from managing brand new start-ups to million dollar industries.
Beginning as a Kickstarter campaign, raising $100,000 in 30 days, producers and directors Erin Bagwell and Komal Minhas have already previewed the film at the White House and been honored by Oprah Winfrey in the inaugural SuperSoul 100 list. Huffington Post named 'Dream, Girl' the number one "Feminist Film To Watch" and Upworthy called it "the film every little girl (and grown-up girl, too) should see."
On a mission to tell the stories of 5 amazing female entrepreneurs to inspire the next generation of leaders, 'Dream, Girl' traces the stories and shares the experiences of these female founders; from being underestimated by their male counterparts; to getting the courage to take the leap and quit their nine-to-fives; to funding and financing their start-ups; and taking a break from their careers to focus on families. Each woman has an authentic story unique to her individual experience, yet we learn our stories are interconnected in ways that uplift us all, in business and in life.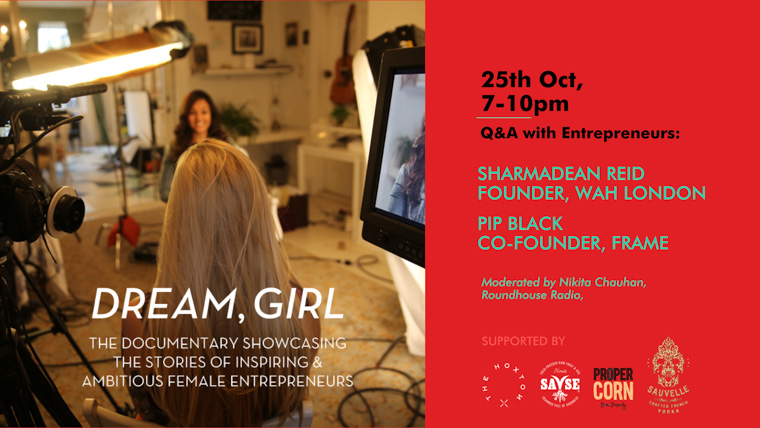 The screening will be followed by a special Q&A with Sharmadean Reid founder of Wah Nails and Pip Black co-founder of Frame
Join us for an inspiring evening including refreshments courtesy of Savse smoothies, SAUVELLE VODKA cocktails and Propercorn.
If that ain't Girl Power we don't know what is!
Join us for an evening hosted by Nation of Billions with our partners at Hoxtown.