Description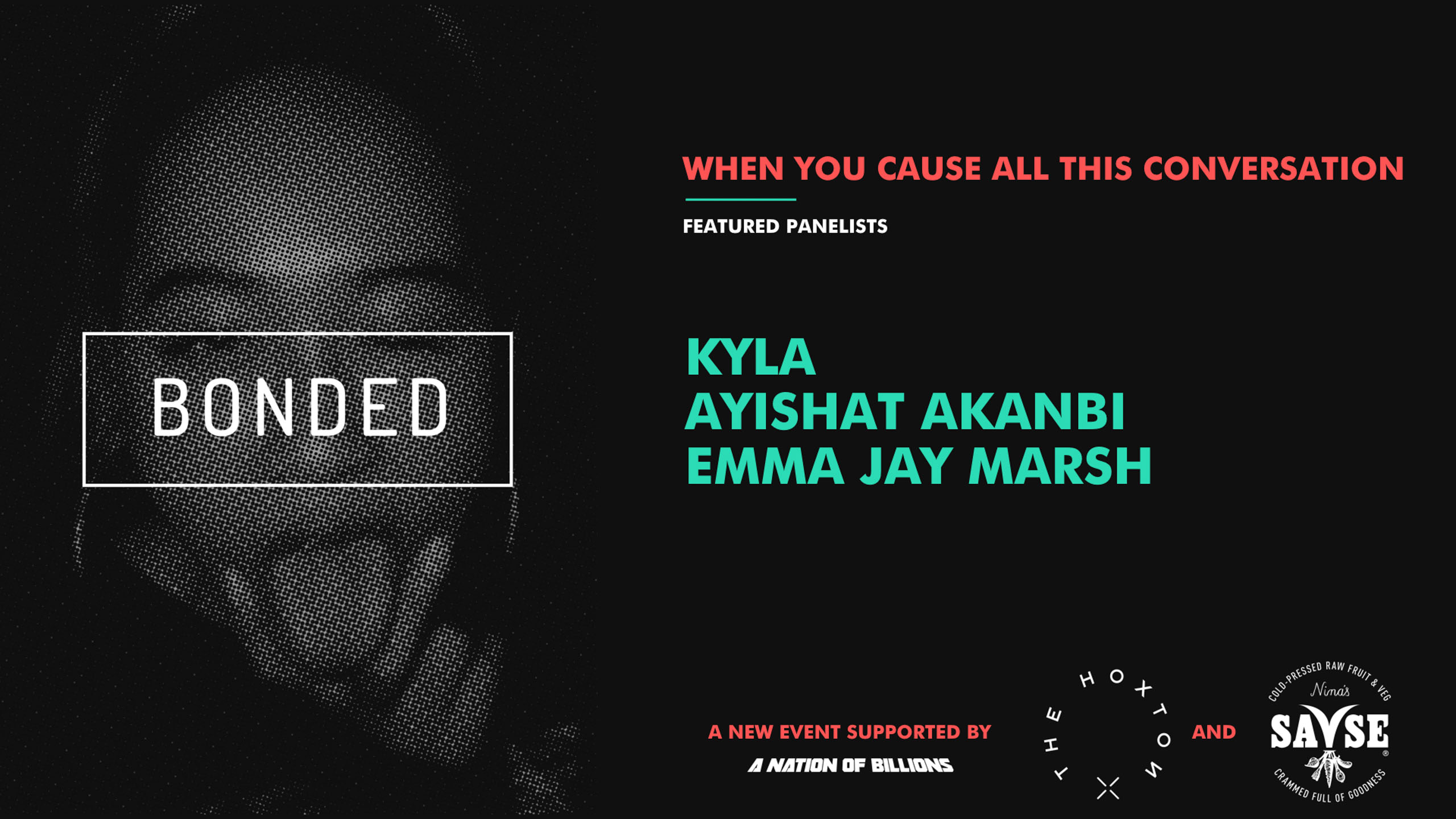 Join us for our very first BONDED event on the 1st of JUNE with a trio of panelists who've caused a bunch of conversations.
KYLA, went from an ordinary housewife to household name in a matter of weeks, dancing at the number one spot with Drake in 33 countries, after Drake sampled her 2009 hit 'Do You Mind'. Becoming the first woman of 2016 to reach the top of the U.K Official singles chart, UK based singer/songwriter, Kyla will be talking about her transition from music to motherhood and back to music again. Expect invaluable insights about her life in music since her collaboration with the king of conversation, Drake.
AYISHAT AKANBI, is a self-described 'visual expressionist' and fashion stylist, with a sharp aesthetic sense and technique rooted in her ability to establish a political, psychological and artistic understanding of style. Believing that personal style is something that is accessible to any and every one, Ayishat will discuss her recent projects, and how fashion and image can dismantle stereotypes.
EMMA JAY MARSH, caused a whole lot of conversation on Twitter and subsequently in The Huffington Post and The Independent, when she shared a sexist email from a male counterpart. Hoping to shed light on the personal challenges women face in the industry, Emma has worked across various areas including press and radio, but mainly within artist management. Setting up her own management company in 2013 (SPIRAL) and working alongside other companies with artists such as Jamie Woon, SOHN, Aquilo etc.
Our panel is as diverse as they get, three females, with a whole lot of experiences and different roles within the UK music and creative industries. These women have caused a lot of conversation, and we'll be opening out the conversation to you as well. The event will be curated by Kamilla Rose, and will include a Q&A session with our attendees to discuss issues women face in the industry.
Event partner: THE HOXTON - We're partnering with Hoxtown for our Bonded event at The Hoxton, Shoreditch
Supported by: A NATION OF BILLIONS - A Nation of Billions hosted channel BONDED present our first live event hosting an intimate conversation about the experiences of women within the music industry.
Refreshments: Courtesy of SAVSE cold pressed raw fruit and veg
Read: Our full length cover story entitled: 'When You Cause All This Conversation' featuring 12 females who are absolutely killing it in the music industry at the moment.
Bonded is a Not-For-Profit organisation founded by No-Chiefs. Our mission is to bring the industry up to standard to cultivate future female bosses. Assumptions because you're a woman sustain existing stereotypes and can hinder not only your progress but the progress of companies.
"People base things off how much experience you have these days not how clever you are with your decisions." - Young Girls / Pure Youth
www.bonded.me