Location
Bonnie & Wild
Bonnie & Wild
St James Quarter (4th floor)
Edinburgh
EH1 3AE
United Kingdom
Refund policy
Contact the organiser to request a refund.
Eventbrite's fee is nonrefundable.
The Chef's Table with Gary Maclean, National Chef of Scotland and Bruichladdich. An exclusive private dining experience at Bonnie & Wild
About this event
Join National Chef of Scotland Gary Maclean and Bruichladdich Distillery for the launch of the Chef's Table at Bonnie & Wild series, an intimate, and very exclusive dining experience.
In front of a small number of guests, Gary will prepare an immaculate five-course meal in Bonnie & Wild's beautiful show kitchen, before personally serving each course in our private dining room and taking you through the stories behind the food.
Gary Maclean, Bruichladdich and Bonnie & Wild all share a commitment to sustainability and socially responsible sourcing, and this ethos lies at the heart of these Chef's Table experience.
Gary's five-course meal opens (full details below!) with a serving of artisanal rye bread and broth, before moving on to a course of traditional Scottish root vegetables and barbequed celeriac.
A seafood course puts Shetland mussels on the menu, accompanied by sustainably sourced Gigha halibut.
Following the seafood course is a serving of game, with a smoked roe deer loin taking centre stage.
For the fifth and final course, the humble apple takes centre stage, with Gary sourcing the fruit from the myriad small orchards around the Scotland, including many within urban environments.
Each course will be complemented by a specially created cocktail or dram, courtesy of Bruichladdich Distillery, the first whisky and gin distillery to be awarded B Corp Status.
We have six sessions running from Friday March 10th - Saturday March 12th, with lunchtime and evening sittings. Only a small number of tickets are available for each session. See menu below, and scroll down to see the full descriptions!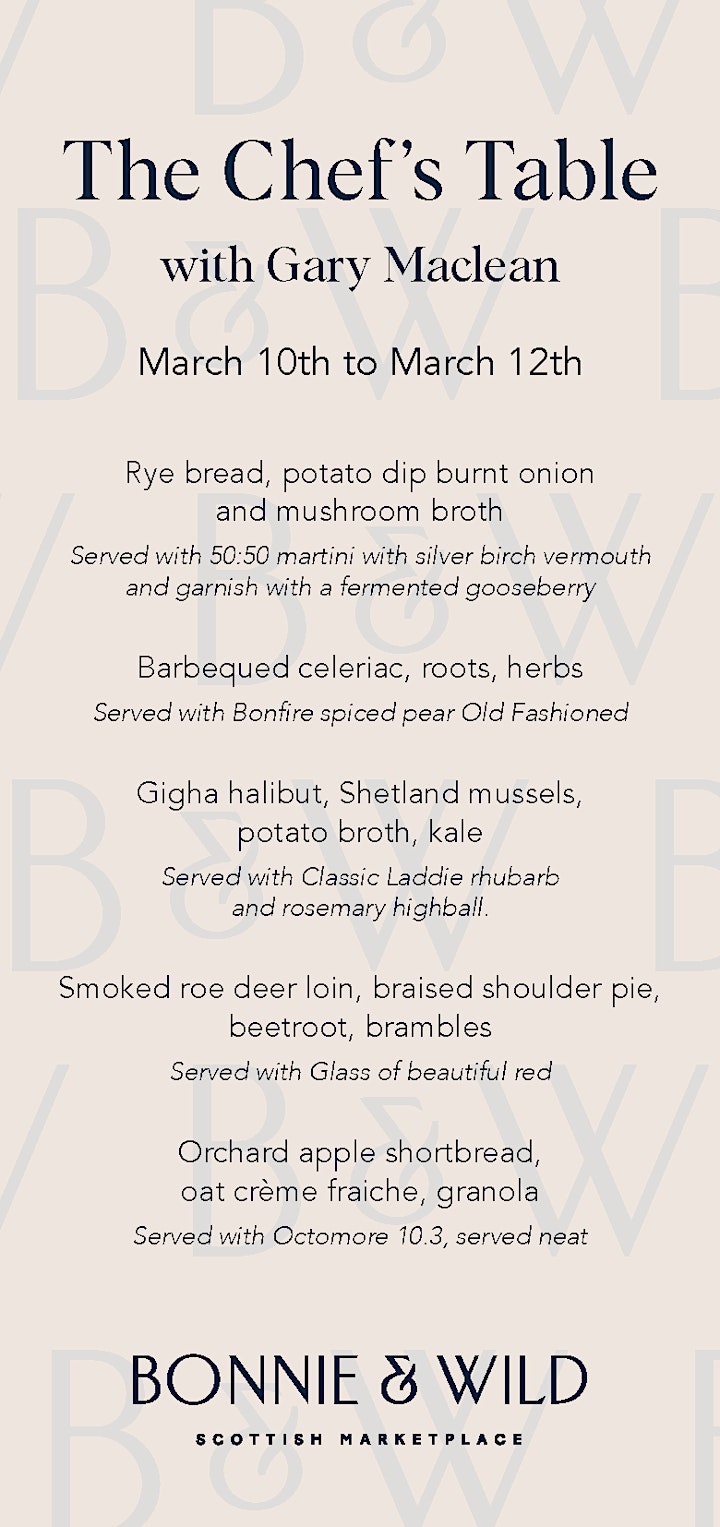 The Meal
Rye bread, potato dip burnt onion and mushroom broth
Drink: 50:50 martini with silver birch vermouth and garnish with a fermented gooseberry. (Using preserved ingredients means we can use them throughout the year.)
Growth of rye grass causes no known significant damage to air, water or soil. It has a relatively low carbon and water footprint. Using rye flour allows us to reduce our reliance on potentially more harmful crops like wheat.
The potato dip burnt onion and mushroom broth both allow us to use off-cuts, skins and less uniform pieces of vegetable along with herb stalks to create meat free dishes based around food that may otherwise be composted or wasted.
Barbequed celeriac, roots, herbs
Drink: Bonfire spiced pear Old Fashioned. (Made from Port Charlotte 10, pear juice, and native spices, hogseed and magnolia.)
Celeriac and in general root vegetables are sustainable vegetables and are grown locally in Scotland. They are seasonally available in the autumn and winter months. Celeriac's carbon and water footprint are both low.
Gigha halibut, Shetland mussels, potato broth, kale
Drink: Classic Laddie rhubarb and rosemary highball. (A seasonal classic! And for very good reasons.)
Shetland mussels are farmed the pristine seas of the North Atlantic, mussel farming has virtually no negative environmental impact. Mussels are also hugely important to marine ecosystems because they increase biodiversity by acting as ecosystem engineers.
The Gigha halibut system is unique. They use a land-based system of aquaculture where the water is pumped straight from the Atlantic and into tanks. All Gigha halibut are hand reared with a certified organic diet using 100% fish trimmings as a source of fishmeal therefore no pressure is placed on the global fisheries used for sourcing fish meal.
Wild halibut is now listed as an endangered species. Gigha halibut offers an alternative source of halibut which helps reduce the pressure on the endangered wild stocks of halibut in the sea.
Smoked roe deer loin, braised shoulder pie, beetroot, brambles
Drink: Red wine. Will be confirmed at each sitting.
Roe deer is one of the most abundant wild deer in the UK with and with population of over 350k in Scotland alone, they are found especially in the lowlands and central belt. In some places, they are considered a pest and their numbers need to be managed.
Wild meat can have environmental advantages over animal livestock. By eating local culled animals, we are not rearing an animal to be consumed as meat, so we do not have to worry about environmental problems such as the methane that beef cows produce. Reducing wild animal populations can protect crops and forests. Wild game hunting both reduces wildlife damage and provides meat to that can be consumed.
Orchard apple shortbread, oat crème fraiche, granola
Drink: Octomore 10.3, served neat
Local community gardens are found all over Scotland, they provide and abundance of seasonal organic produce. Not only do these gardens provide amazing fruit and vegetables but are also a hub for local communities to get together. These cooperatives provide produce for the people who need it most and also offer a platform for people to learn more about diet and environment as well as learning the skills to grow amazing healthy food.