Description
In 2017 Bonningtons celebrates 50 years of trading. During this time we have grown to become one of the UK's leading importers of garden, home and leisure goods - the home of Simply Selling Products.
We will be marking the occasion with an exciting open showroom event - from 5th - 14th September 2017. Special offers and surprises await all who visit! This promises to be our biggest event to date, and we are looking forward to welcoming as many visitors as possible.
In order for you to make the most of your visit, we will be operating an appointment system. During your visit you will be welcomed by our friendly and professional sales team and given a VIP tour of the newly refurbished showrooms, with complementary food and drinks.
Below are some of the fantastic promotions on offer to visitors (T & C's apply).
To attend the Open Week, please register now and we will be in touch to arrange your appointment.
Click here for a video preview of our showrooms.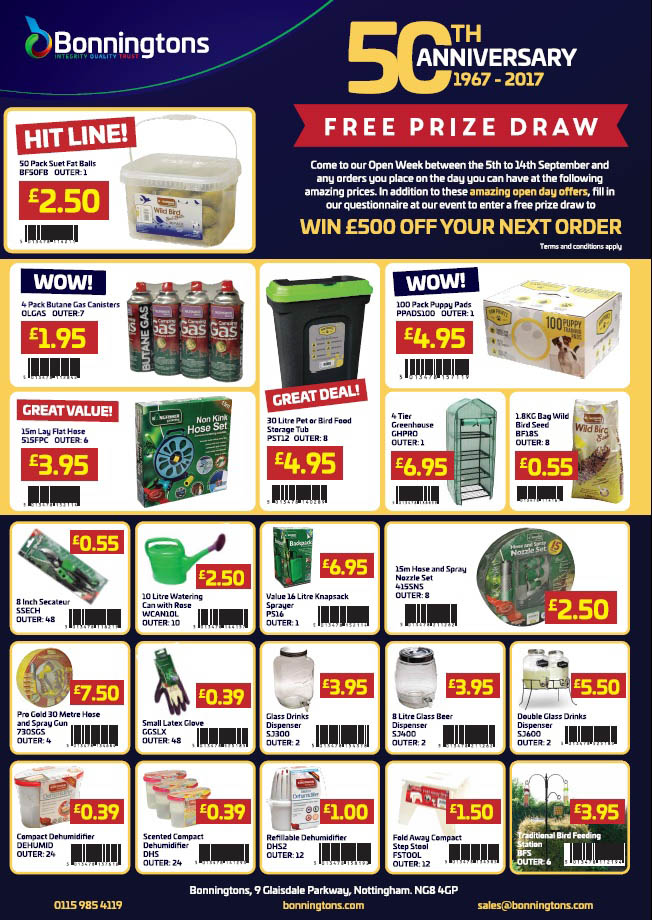 TERMS & CONDITIONS
Open week offers are only available to customers who visit the showrooms between 5th - 14th September 2017.
All discounts and promotions will no longer be available once the Open Week has ended.
All promotional prices on offer are nett prices.

Promotional products can be delivered at any time during/after the open week, including 2018.

*

5% off all new listings ordered at the open week (against any products not purchased during 1st September 2016 - 31st August 2017).
Prize Draw: One winner will be drawn at random afer 14th September 2017. If the winner is an account customer, £500 will be credited to their account. If the winner is a pro forma customer, they will receive £500 off their next order. Minimum order requirement still applies - order value after £500 has been deducted must be at least £500 UK mainland, and £750 restricted postcodes and Ireland.

*

Stock permitting - if stock is not available we would need to place orders with China (minimum 12 weeks' lead time). One product per order - items cannot be split across multiple orders.
Organiser of Bonningtons 50th Anniversary Celebration Event
Bonningtons is a leading supplier of garden, home and leisure goods, who celebrated their 50th year in 2017.  Based in the UK with buying offices in China, they continue to grow by introducing great selling products into businesses in the UK and Europe, across the following categories:  Gardening, Outdoor Living, Animal and Bird Care, Homewares, Catering and Christmas.  Their wide customer base includes major store groups, wholesalers and distributors, large internet retailers, garden centres and independant retailers.