Book Celebration The New Architecture of Science: Learning from Graphene, 2020 by Kostya S. Novoselov and Albena Yaneva
About this event
Book Celebration
The National Graphene Institute and the Manchester Urban Institute would like to invite you at the book celebration of The New Architecture of Science: Learning from Graphene. Singapore: World Scientific Publishing, 2020 by Kostya S. Novoselov and Albena Yaneva https://www.worldscientific.com/worldscibooks/10.1142/11840#t=aboutBook
Date: 30 September 10 am.
Speakers:
Prof Sir Kostya S. Novoselov, National Graphene Institute, Manchester and National University of Singapore
Prof Albena Yaneva, Manchester Urban Institute, University of Manchester
John Whittaker, Engineering Director of the Graphene Engineering Innovation Centre, University of Manchester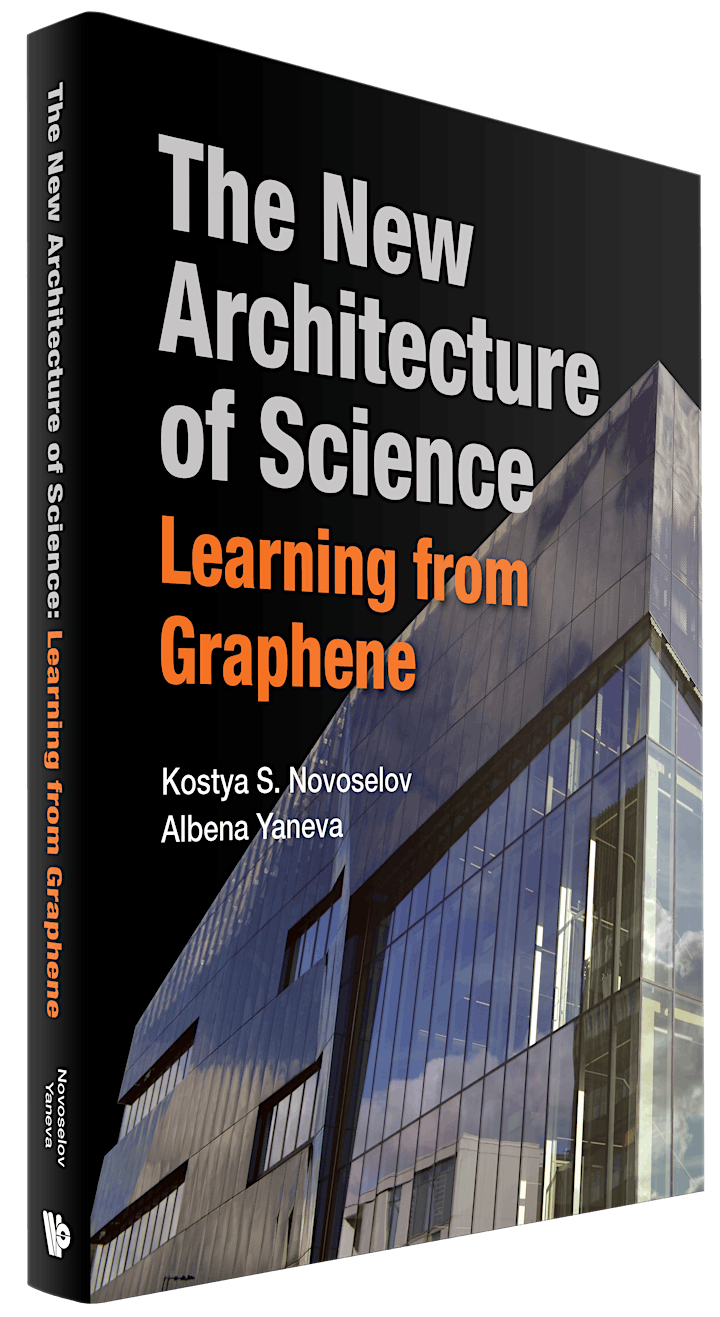 About the book:
The book analyses the unique design of the National Graphene Institute (NGI) in Manchester, UK and sheds light on the new generation of 21st century science laboratories. Weaving together two tales of the building, lead scientist and one of the designers, Kostya Novoselov (Nobel Laureate in Physics-2010), and architectural anthropologist, Albena Yaneva, combine an analysis of its distinctive design features with ethnographic observation of the practices of scientists, facility managers, technicians, administrators and house service staff.
Drawing on a meticulous study of 'the social life' of the building, the book offers a fresh account of the mutual shaping of architecture and science at the intersection of studies of science and technology, architectural theory and cognitive anthropology.
About the authors:
Prof. Sir Kostya S Novoselov FRS is a Langworthy Professor in the School of Physics and Astronomy and the Royal Society Research Professor at the University of Manchester and the Tan Chin Tuan Centennial Professor at the National University of Singapore. He received the Nobel Prize in Physics in 2010 (together with Andre Geim) for their pioneering work on graphene. He was the leading scientist behind the design and development of the National Graphene Institute, working closely with the architects.
Prof. Albena Yaneva is Professor of Architectural Theory at the University of Manchester, Manchester Urban Institute. She is the author of several books including: The Making of a Building (2009), Made by the OMA: An Ethnography of Design (2009), Mapping Controversies in Architecture (2012), Five Ways to Make Architecture Political. An Introduction to the Politics of Design Practice (2017), and Crafting History: Archiving and the Quest for Architectural Legacy (2020). Yaneva is the recipient of the Royal Institute of British Architects President's award for outstanding university research (2010).
About the publisher:
World Scientific Publishing Company (WSPC) has been a leading independent STM publisher since 1981. This year WSPC is celebrating its 40th anniversary, with over 12,000 published titles including Nobel Lectures in all subjects. WSPS's goal is to distribute high quality academic and popular science titles to a worldwide audience.
Topic: Book Celebration: 'The New Architecture of Science' by Novoselov and Yaneva
Time: Sep 30, 2021 09:00 AM London
Join Zoom Meeting
https://zoom.us/j/97191021204
Meeting ID: 971 9102 1204
One tap mobile
+442039017895,,97191021204# United Kingdom
+442080806591,,97191021204# United Kingdom
Dial by your location
+44 203 901 7895 United Kingdom
+44 208 080 6591 United Kingdom
+44 208 080 6592 United Kingdom
+44 330 088 5830 United Kingdom
+44 131 460 1196 United Kingdom
+44 203 481 5237 United Kingdom
+44 203 481 5240 United Kingdom
Meeting ID: 971 9102 1204
Find your local number: https://zoom.us/u/acirO9teKw
Join by SIP
97191021204@zoomcrc.com
Join by H.323
162.255.37.11 (US West)
162.255.36.11 (US East)
115.114.131.7 (India Mumbai)
115.114.115.7 (India Hyderabad)
213.19.144.110 (Amsterdam Netherlands)
213.244.140.110 (Germany)
103.122.166.55 (Australia Sydney)
103.122.167.55 (Australia Melbourne)
209.9.211.110 (Hong Kong SAR)
64.211.144.160 (Brazil)
69.174.57.160 (Canada Toronto)
65.39.152.160 (Canada Vancouver)
207.226.132.110 (Japan Tokyo)
149.137.24.110 (Japan Osaka)
Meeting ID: 971 9102 1204
Join by Skype for Business
https://zoom.us/skype/97191021204