Description
Join Katherine Connelly to celebrate the launch of her edited volume of Sylvia Pankhurst's writing: A Suffragette in America.
The book is a collection of Sylvia Pankhurst's writing on her visits to North America in 1911-12. Unlike the standard suffragette tours which focused on courting progressive members of America's social elite for money, Pankhurst got her hands dirty, meeting striking laundry workers in New York, visiting female prisoners in Philadelphia and Chicago and grappling with horrific racism in Nashville, Tennessee.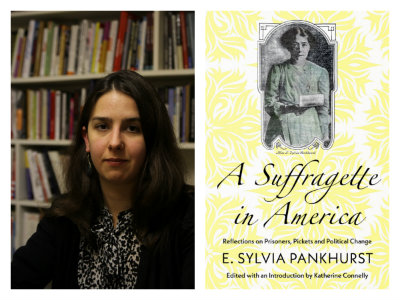 Katherine Connelly grew up in Cambridge. She is a writer, historian and an expert on Sylvia Pankhurst. She is the author of the biography Sylvia Pankhurst: Suffragette, Socialist and Scourge of Empire and editor of A Suffragette in America: Reflections on Prisoners, Pickets and Political Change.
The launch is free to attend but booking is essential as spaces are limited. Tickets can be booked through this page, by calling 01223 463200 or in person at Heffers bookshop. Please note this is an informal, celebratory event, not a seated talk; a limited number of chairs will be available.
Like this? See a full list of our forthcoming events by clicking here.