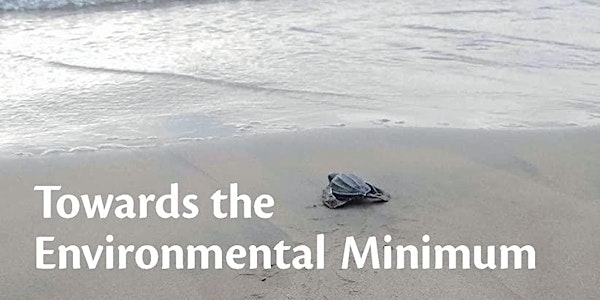 Book Launch: Basic Environmental Protection
IHSS at Queen Mary is pleased to invite you to the launch of Dr Stefan Theil's monograph Towards the Environmental Minimum
About this event
The launch will bring together academics from a wide variety of legal backgrounds to discuss the argument and themes of the book. The book explores the implications of environmental degradation and pollution for domestic and international human rights protection. Serious environmental pollution presents a fundamental challenge to any commitments to human rights because their meaningful enjoyment ultimately presupposes basic environmental guarantees. This is true regardless of whether one assigns an instrumental (economical) or an intrinsic (moral) value to the natural environment: either way, current levels of pollution and degradation cannot continue without jeopardising the long-term survival of humankind. The core objective of the book is to address the gap between rhetorical commitments to a healthy environment and the reality and limitations of existing environmental regulations. The book rejects the fashionable critique that tackling environmental harm necessitates a radical departure from established legal categories and principles. Instead, the environmental minimum provides an attractive and practically viable framework that permits a principled and consistent application of human rights to environmental harm: whether in a domestic or international legal context. The argument is bolstered through a comprehensive dataset of the environmental judgments under the European Convention on Human Rights and other regional and international human rights regimes: the dataset is freely available for research and educational purposes here.
Panellists
Dr Stefan Theil is the John Thornley Fellow in Law at Sidney Sussex College. He completed his first degree in law at the University of Bayreuth (2011) in Germany. After brief stints working for a commercial law firm in Munich and for the Research Services of the German Bundestag in Berlin, Stefan earned an LL.M. from University College London (2013). Inspired to pursue a career in academia, he completed his doctoral work at the University of Cambridge (2018) and was the inaugural Research Fellow in Civil and Political Rights at Bonavero Institute, University of Oxford (2017-2021). You can follow Stefan on twitter and discover his papers on ResearchGate.
Dr Tibisay Morgandi is a Lecturer in International Energy and Natural Resources Law. She is based at the Energy Law Institute at the Centre for Commercial Law Studies (School of Law). Dr Morgandi is a public international lawyer and teaches and publishes in the area of international energy law and international economic law. Before joining QMUL, Dr Morgandi was a Swiss National Science Foundation Postdoctoral Fellow at the University of Cambridge (she was based at C-EENRG, where she is still a Fellow). At Cambridge, Dr Morgandi lectured in International Environmental Law in the MPhil in the Department of Land Economy and taught International Law at Trinity Hall. She previously worked as an associate in the Public International Law Practice and in the International Arbitration Group at Freshfields Bruckhaus Deringer LLP (Paris). Dr Morgandi holds a PhD and a Masters in international law from the Graduate Institute in Geneva (2016; 2011), an LLM from Harvard (2014), and a Laurea Magistrale in Giurisprudenza (Law Degree) from the Catholic University of Milan (2009). Dr Morgandi was admitted to the Bar in Italy in 2014 and has consulted for the European Commission as well as Chatham House, Client Earth, the International Centre for Trade and Sustainable Development (ICTSD). Her native languages are Italian and Spanish. She is fluent in English and French.
Dr John Adenitire is a Strategic Lecturer in the School of Law and a Fellow of the Institute of Humanities and Social Sciences. Prior to joining Queen Mary, he was a Lecturer in Law at the University of Birmingham. He completed his PhD at the University of Cambridge, Faculty of Law and Fitzwilliam College. He has taught and researched at Cambridge, Durham, Birmingham, the UCL Constitution Unit, the Bingham Centre for the Rule of Law and the UK Commission on a Bill of Rights.
Dr Andrew Russell is a Lecturer in Environmental Science in the School of Geography at Queen Mary University of London. His expertise covers two closely related topics: understanding present day and future climate change risks to human and natural systems; and the analysis and development of effective policies and responses to manage those climate change risks. Dr Russell plans to build on his achievements to date in these areas and will develop new interdisciplinary research and teaching initiatives at QMUL. Immediately before joining QMUL, Dr Russell was a civil servant working on UK climate policy in the Committee on Climate Change (CCC), international climate science in the Department for Business, Energy and Industrial Strategy (BEIS) and international biodiversity evidence in the Department for Environment, Food and Rural Affairs (Defra). Prior to his civil service career Dr Russell was a Senior Lecturer at Brunel University London where he led an interdisciplinary research group focussing on climate change impacts and directed undergraduate and postgraduate degrees on environmental science and climate change. Dr Russell is also a Senior Fellow of the Higher Education Academy (SFHEA).
The Chair
Prof Simon Reid-Henry is an author, academic and policy analyst specialising in international and political affairs. His current work examines the fault lines of democracy at home and abroad and the political dynamics of international public finance. Simon is Director of the Institute for the Humanities and Social Sciences at Queen Mary, Programme Director at Counterpoint, and Research Professor at PRIO in Oslo leading an international team examining the politics of duties in modern political society. He is the author of Fidel and Che: The Revolutionary Friendship Between Fidel Castro and Che Guevara, Empire of Democracy: The Remaking of the West since the Cold War, 1971-2017, The Political Origins of Inequality: Why a More Equal World Is Better for Us All and The Cuban Cure: Reason and Resistance in Global Science.
Registered attendees will receive a zoom link for the event two days prior the event.