Description
At 6.30pm on 24th May, join Jeremy Mynott as Heffers as he celebrates the publication of his new book Birds in the Ancient World.
Jeremy Mynott's 'Birds in the Ancient World' illustrates the many different roles birds played in the culture of the ancient world: as indicators of time, weather and the seasons; as a resource for hunting, eating, medicine and farming; as domestic pets and entertainments; and as omens and intermediaries between the gods and humankind. His book is an original contribution to the flourishing interest in the cultural history of birds and to our understanding of the ancient cultures in which birds played such a prominent part.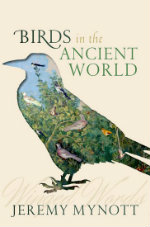 The launch is free to attend but booking is essential as spaces are limited. Tickets can be booked through this page, by calling 01223 463200 or in person at Heffers bookshop. Please note this is an informal, celebratory event, not a seated talk; a limited number of chairs will be available.