Description
On Thursday 5th April at 6.30pm, join Peter Morfoot at Heffers as he celebrates the publication of BOX OF BONES, the third book in the Captain Darac series of crime novels.
It is Carnival time in Nice, and for three weeks the boulevards are alive with dancers, jugglers and musicians. Amidst the colour and pageantry, Captain Paul Darac of the Brigade Criminelle is investigating a series of suspicious deaths. He and his team reopen a closed case that may provide new insights, but their own lives are in danger as they uncover a story of terrifying ambition and betrayal.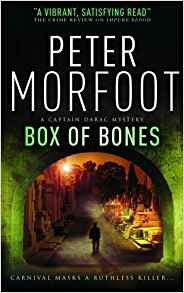 The previous two books in the series were Impure Blood and Fatal Music, the latter of which was chosen by Shots Magazine as one of their five favourite novels of 2017.
The launch is free to attend but booking is essential in order to be guaranteed entry; please reserve a place through this page, by calling 01223 463200 or in person at Heffers bookshop. Please note that this is an informal standing event, not a seated talk; a limited number of chairs will be available.