Description
On 9th October, join Tim Richardson and Clive Boursnell at Heffers as they celebrate the launch of their new book on the most exquisite gardens in and around the university of Cambridge's colleges.
Tim Richardson's book combines brilliant research and elegant prose with stunning photography by Clive Boursnell. Following on the heels of 'Oxford College Gardens', this book invites an armchair appreciation of the history, horticulture and atmosphere that these hallowed gardens provide. The gardens are as rich and varied as the colleges themselves, often set within stunning architecture, and include formal quadrangles, naturalistic planting, walled gardens, rooftop oases, productive plots and watermeadows.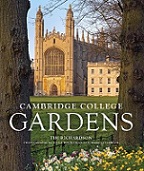 The launch is free to attend but booking is essential as spaces are limited. Tickets can be booked through this page, by calling 01223 463200 or in person at Heffers bookshop. Please note this is an informal, celebratory event, not a seated talk; a limited number of chairs will be available.
Like this? See a full list of our forthcoming events by clicking here.