Description
Join Martin Salisbury and Morag Styles at Heffers as they celebrate the publication of the new edition of Children's Picturebooks: The Art of Visual Storytelling.

Children's picturebooks are the very first books we encounter and play a major role in introducing us to both art and language. But what does it take to create a successful picturebook for children? This revised edition of a bestselling title carries invaluable insight into a highly productive, dynamic sector of the publishing world. Featuring interviews with leading illustrators and publishers from across the world, it remains essential reading for students and aspiring children's book illustrators and writers.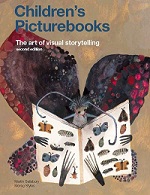 Martin Salisbury is an illustrator, writer and Professor of Illustration at Cambridge School of Art in Anglia Ruskin University, where he designed the UK's first Masters programme in children's book illustration.

Morag Styles is the author of a number of books on children and pictuerbooks. She is Emeritus Professor of Children's Literature at the University of Cambridge.

The launch is free to attend but booking is essential as spaces are limited. Tickets can be booked through this page, by calling 01223 463200 or in person at Heffers bookshop. Please note this is an informal, celebratory event, not a seated talk; a limited number of chairs will be available.
Like this? See a full list of our forthcoming events by clicking here.