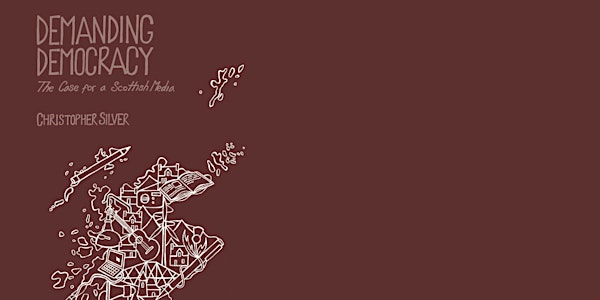 Book Launch: Demanding Democracy, The Case for a Scottish Media
Location
Centre for Contemporary Arts
350 Sauchiehall Street
Glasgow
G2 3JD
United Kingdom
Description
To celebrate the launch of the Demanding Democracy, Christopher Silver will be joined by a panel of expert speakers to discuss key themes raised in the book.

The discussion, followed by a Q&A, will include:

Alison Balharry (ex BBC)
Pat Kane (musician, writer and activist)
Angela Haggerty (Editor of Common Space)
Peter Geoghegan (journalist: The Ferret, Channel 4)

Demanding Democracy: The Case for a Scottish Media

In recent decades, just as Scottish democracy was experiencing revival, the Scottish media saw a period of steep decline. How can this glaring anomaly be resolved?

With the Scottish independence referendum causing the role of media to become the subject of fiercely contested debate, this book takes a broader view of the issues in hand and calls for a wide-ranging discussion about the media Scotland wants and needs.
Featuring interviews and insights from leading journalists, commentators, experts and thinkers, Demanding Democracy offers a compelling and intelligent case for the renewal of a vital component in Scotland's public life.