Description
On 12th January, join P R Brown at Heffers to celebrate the launch of his new book, Dreams and Illusions Revisited: Of Dreams that Make Us and Dreams that Break Us.
Our lives consist, in large measure, of dreams, particularly those of our waking hours. They are all of many different kinds, from the purely personal, self-directed and egoistic to the self-reproaching and the visionary; many are false and for very different reasons. The power of dreams is well-documented and attested. Some dreams are outward-seeking and are directed to the betterment of the human condition. Some are false and may rank as illusions, and some of these illusions can be powerfully unhelpful and destructive in the wrong hands, or in the wrong heads. Following on from P R Brown's previous book The Gods of Our Time, the aim of Dreams and Illusions Revisited is to provide an accessible and thought-provoking discussion of matters fundamental to the human condition, past, present and, undoubtedly, future.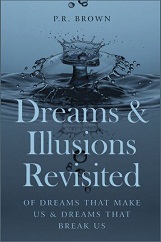 This event is free to attend but booking is essential; please RSVP through this page to reserve your place.