Description
On 7th November, join Robert Springborg at Heffers as he celebrates the launch of his new book, Egypt.
Egypt is one of the few great empires of antiquity that exists today as a nation state. Despite its extraordinary record of national endurance, the pressures to which Egypt currently is subjected and which are bound to intensify are already straining the ties that hold its political community together, while rendering ever more difficult the task of governing it. In this timely book, leading expert on Egyptian affairs Robert Springborg explains how a country with such a long and impressive history has now arrived at this parlous condition. The Egyptian "hot spot", Springborg argues, is destined to become steadily hotter, with ominous implications for its peoples, the Middle East and North Africa, and the wider world.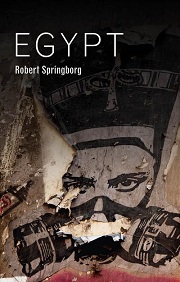 Egypt will be available to purchase at the launch and Robert will be signing copies.
The evening is free to attend but spaces are limited; please book a free ticket through this page to be guaranteed entry, or call 01223 463200. Please note, this is an informal standing event, not a seated talk; a limited number of chairs will be available.
Like this event? See our full programme here.