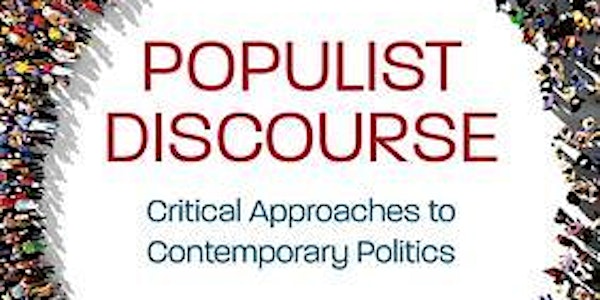 Book Launch Event: Populist Discourse. Critical Approaches to Contemporary...
Event Information
Location
Homerton College
Hills Road
MAB 126 Small Studio
Cambridge
CB2 8PH
United Kingdom
Description
According to Prof. Paul Chilton (Univ. Warwick), Populist Discourse brings together experts from both linguistics and political science to analyse the language of populist leaders and the media's representation of populism in different temporal, geographical and ideological contexts, including Nazi Germany, Sweden, the Netherlands, Spain, Italy, Portugal, Austria, Greece, the UK, the US and South America. With 17 contributions split into four sections, Populist Discourse covers a variety of approaches such as corpus-based discourse analysis, critical discourse analysis and political perspectives, making it a timely dissection for students and researchers working in linguistics, political science and communication.
A panel of experts will debate on the impact of populist discourse globally, putting emphasis on Brexit, Trumpism, the rise of extreme far-right political parties and anti-migration rhetoric
Date and time
Location
Homerton College
Hills Road
MAB 126 Small Studio
Cambridge
CB2 8PH
United Kingdom