Description
On 25th January at 6.30pm, join Lucy Rycroft-Smith and Jean-Louis Dutaut at Heffers as they celebrate the launch of their new book, Flip the System UK: A Teachers' Manifesto.
This brave and disruptive book accurately defines the problems of low teacher morale and offers systemic, future-proof and realistic solutions to bringing hope, energy and joy back to the profession. The simple answer is staring us in the face: increase teacher agency. Our rallying cry: our profession needs a return to values of humanity, pride, and professionalism.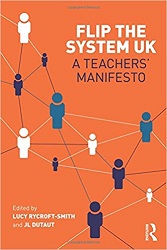 The launch is free to attend but booking is essential to be guaranteed entry; please book tickets through this page, by calling 01223 463200 or in person at Heffers bookshop. Please note that this is an informal standing event, not a seated talk; a limited number of chairs will be available.