Book Launch: Governing Global Health with Chelsea Clinton and Devi Sridhar

Wednesday, 10 May 2017 from 17:30 to 19:00 (BST)
Event Details
Join us for a special book launch event of "Governing Global Health: Who Runs the World and Why", with Chelsea Clinton and Devi Sridhar. The authors will discuss some of the key findings of their new book, followed by a Q&A session with the audience.
Introduction: Professor Peter Piot
Speakers: Chelsea Clinton and Devi Sridhar 
After the talk, a book signing will take place in the South Courtyard.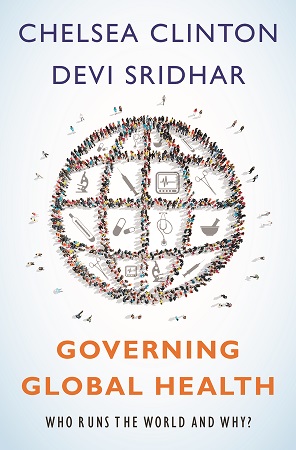 About the book:
The past few decades have seen a massive increase in the number of international organizations focusing on global health. Campaigns to eradicate or stem the spread of AIDS, SARS, malaria, and Ebola attest to the increasing importance of globally-oriented health organizations. These organizations may be national, regional, international, or even non-state organizations - like Médecins Sans Frontières.
One of the more important recent trends in global health governance, though, has been the rise of public-private partnerships (PPPs) where private non-governmental organizations, for-profit enterprises, and various other social entrepreneurs work hand-in-hand with governments to combat specific maladies. A primary driver for this development is the widespread belief that by joining together, PPPs will attack health problems and fund shared efforts more effectively than other systems. 

But what do we actually know about the accountability and effectiveness of PPPs in relation to the traditional multilaterals? According to Clinton and Sridhar, we have known very little because scholars have not accumulated enough data or developed effective ways to assess them - until now. In their analysis, which they will discuss at this event, they uncovered both strengths and weaknesses of the model. They take a closer look at two major PPPs - the Global Fund to Fight HIV/AIDS, TB and Malaria and the GAVI Alliance - and two more longstanding major international organizations - the World Health Organization and the World Bank. 

About the authors:
Chelsea Clinton is Vice Chair of the Clinton Foundation and a Lecturer at the Mailman School of Public Health at Columbia.
Devi Sridhar is Professor at the University of Edinburgh's Medical School and holds the Chair in Global Public Health. Previously, she was Senior Research Fellow at the Blavatnik School of Government and a Fellow of Wolfson College.
Watch the talk live:  
https://panopto.lshtm.ac.uk/Panopto/Pages/Viewer.aspx?id=31754bfe-a659-47d7-b0e4-e2d1cd967158
If you are a member of the media please contact our Press Office to make arrangements: press@lshtm.ac.uk
When & Where

John Snow Lecture Theatre
London School of Hygiene & Tropical Medicine
Keppel Street
WC1E 7HT London
United Kingdom


Wednesday, 10 May 2017 from 17:30 to 19:00 (BST)
Add to my calendar