Sales Have Ended
Registrations are closed
Registration is now closed. To order the book visit: https://bristoluniversitypress.co.uk/justice-in-a-time-of-austerity
Sales Have Ended
Registrations are closed
Registration is now closed. To order the book visit: https://bristoluniversitypress.co.uk/justice-in-a-time-of-austerity
Join Jon Robins and Dan Newman with their guests at the launch of Justice in a time of austerity: stories from a broken justice system
About this event
Justice in a time of austerity: stories from a broken justice system
(Bristol University Press, 2021; publication/launch date June 22).
Join co-authors Jon Robins and Dan Newman at the launch of their new book. Over a 12-month period, Jon and Dan interviewed people across England and Wales about their experiences of the justice system.
Register now to receive a 30% discount code when purchasing the book from Bristol University Press.
It was a year defined by 'austerity'. Jon and Dan met people caught up in the growing housing crisis, from Grenfell survivors to the homeless or the about-to-be-homeless; and others who had fallen victim to the so-called 'hostile environment', including a number of the Windrush generation who had been denied access to benefits, lost jobs and even faced deportation.
Many of their interviewees found themselves dependent on welfare benefits and foodbanks, often both. These were difficult lives made even more difficult by the chaotic roll-out of Universal Credit with its five-week wait for the first payment and punitive sanctions, and the 2013 legal aid cuts.
Some had been denied 'access to justice' as a result the of the so-called LASPO cuts; some never saw a lawyer, let alone received legal aid.
Interviews were conducted in a range of settings: for example, a food-bank in a church hall in a wealthy part of London or a community centre in a former mining town in the Welsh valleys; a homeless shelter for rough sleepers in central Birmingham; and a destitution service for asylum seekers in a city on the South coast. They also conducted interviews in CABx, law centres and court waiting rooms.
The launch will feature opening words from Baroness Shami Chakrabarti as well as contributions from guest speakers - those working on the frontline who the authors met on their journey through the justice system - who will talk about justice in a time of austerity and pandemic.
"This book should be a call to arms. If you are a tribune of the people who has ever poured scorn on "activist lawyers", I dare you to read this. If you are a lawyer or even a concerned citizen who has never felt comfortable with the "activist" tag, it may just tempt you to reconsider." Baroness Shami Chakrabarti
"This important book chronicles the struggles of those excluded from the justice system and the difficulties of the professionals still trying to help. It issues a powerful case for change." Hannah Quirk, King's College, London
"A timely and vital exposé of the pressures exerted upon our justice system by a decade of political neglect, giving a much needed voice to those who, as a result, have found themselves cut off from justice." Secret Barrister
"A journey through, and call-to-arms for, austerity Britain, where access to justice in housing, food, benefits, the right to remain and family life is denied through poverty, inequality – and design." Steve Tombs, The Open University
"Successive governments have been keen to emasculate challenge, and suppress the impoverished. Long before austerity, long before COVID 19, right up to the 2021 budget. No mention of justice let alone provision. This book has the history, has the contemporary narrative. It is the voice missing from the empty rhetoric of politicians and gives a stark measure of a society without due process." Michael Mansfield QC
"A much-needed addition to the literature on the devastation of austerity in the UK. This book sheds light on one of the most important - yet least highlighted - aspects of how austerity policies shattered lives and vital safeguards in our society: access to justice in the civil and family courts for people without means." Mary O'Hara, Author & Journalist
"The effects of COVID-19 have increased unemployment, poverty and evictions. Those without means need support to access justice. But this timely book shows there is no true equality of arms." Penelope Gibbs, Transform Justice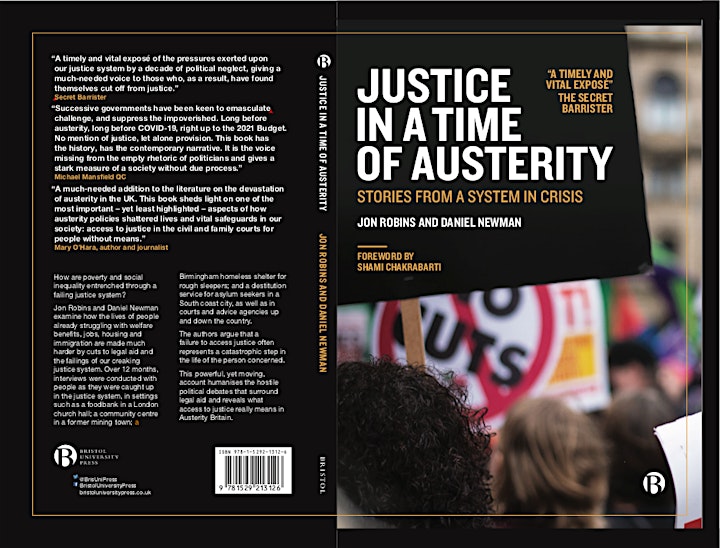 Organiser of Book Launch - Justice in a Time of Austerity