Book Launch: Leading with Gravitas: Unlock the 6 Keys of Impact & Influence
To lead and succeed in business today you need gravitas, but how do you gain this elusive skill?
About this event
In today's competitive and fast-paced environment, gravitas is the all-important but elusive factor that many leaders seek. You could be the best in the business, but if people don't know who you are or take you seriously, you won't get the recognition or results you deserve.
You are invited to an exclusive event hosted by Antoinette Dale Henderson to celebrate the launch of her new book, Leading with Gravitas: Edition 2.
During this one-hour event, Antoinette will explore one of the hottest topics in business right now, how to lead yourself, your team and your business through change.
Drawing on 25 years' experience in leadership communications, Antoinette will unveil practical techniques to help you create a powerful online presence, plus guidance on how to maximise opportunities as we emerge from the shadows of the pandemic.
As a result of attending this event, you will:
Gain a clear understanding of the six components of gravitas
Increase awareness of your own, authentic leadership brand
Learn powerful techniques to get your voice heard, in person and online
Understand how to support your team and organisation in developing this vital business skill
The event will include a 45 minute keynote from Antoinette, followed by a 15 minutes Q&A. Once you've booked your ticket, you'll be sent a private Zoom link to attend.
Ticket options include:
Complimentary attendance at the event
Attendance plus a signed copy of the book posted to your address (UK only)
Attendance plus multiple signed copies of the book (UK only)
Attendance plus a link to the e-book emailed to your inbox
Places are strictly limited so early booking is highly recommended.
About the Book
Gravitas is an essential leadership quality, particularly during change. People with gravitas stand out from the crowd and command respect, by being themselves. The good news is, anyone can develop gravitas when they follow Antoinette's unique, proven methodology.
This major new edition of Leading with Gravitas, available on the website and from online bookstores, has been extensively revised and updated with Antoinette's latest guidance on how to maximise your impact and influence.
Through her unique six-step process you will:
Make a powerful and memorable impact
Project your point of view confidently
Network more successfully
Lead your team to higher performance
Hold your own in pitches, presentations and panels
Manage difficult situations and conflict
Achieve promotion and drive your career progression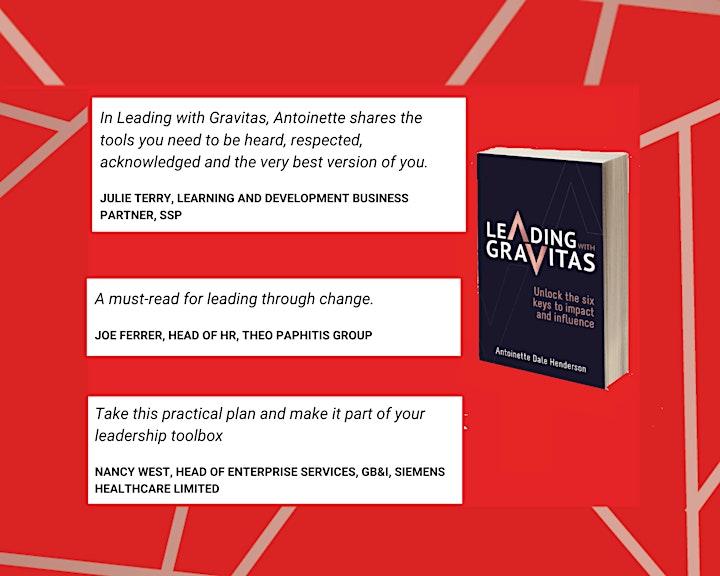 About the Author
Antoinette Dale Henderson is an executive coach and TEDx speaker with over 25 years' experience in leadership communications.
Frustrated that many leaders get told they 'need' more gravitas to progress without being shown how, she created The Gravitas Programme to do just that, enabling thousands of leaders to fulfil their potential.
Her unique methodology is based on extensive research into leaders from diverse backgrounds and cultures to define what gravitas represents today. Her aim is to make the intangible nature of gravitas tangible, uniting six qualities which together convey a strong and powerful version of you. Her belief is that anyone can develop gravitas if they choose to.
She is also the author of the award-winning Power Up: The Smart Woman's Guide to Unleashing Her Potential and is frequently quoted in the media about leading through change and career confidence.
Date and time
Location
Refund policy
Organiser of Book Launch: Leading with Gravitas: Unlock the 6 Keys of Impact & Influence
Antoinette Dale Henderson is an award-winning speaker, executive coach and founder of the Gravitas Programme, a "life changing" leadership development course which has accelerated the career potential of thousands of managers, leaders and business owners and enabled them to speak with authenticity, confidence and credibility.

 With over 25 years' experience in leadership communications, she works globally, delivering strategically-driven, results-orientated and unique masterclasses that make a powerful difference to executives, boards and top teams.

As a Fellow of the Professional Speaking Association and the Global Speakers Federation, she's regularly invited to deliver keynotes and speak on panels about gravitas, leadership and promoting the cause of women in business. She is a regular speaker for VISTAGE, the global organisation for MDs, CEOs and leaders and delivered her first TEDx, Gender Equality: The New Power Dynamic, in October 2019.

She is author of two books. The first, 'Leading with Gravitas: Unlock the Six Keys to Impact and Influence' has been extensively featured in the mainstream media including Forbes, the Daily Telegraph, HR Magazine and Management Today. 
Her second book, 'Power Up: The Smart Woman's Guide to Unleashing Her Potential', explores the challenges faced by women in the workplace and presents an inspirational route map to success. and is packed with powerful techniques for increasing visibility and recognition, with step-by-step guidance on supercharging your career, finding your inner strength and getting your voice heard.

For more information visit our website: http://antoinettedalehenderson.com
Or give us a call on 07725 856 469 – we'd love to hear from you!