Description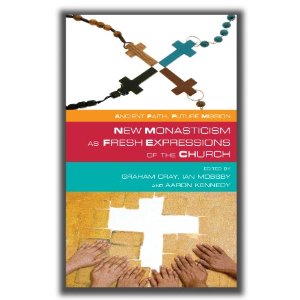 This exciting book, second in the series Ancient Faith Future Mission, is being published in December 2010, with two book launches, one in Manchester and one in London. These two events will begin with a drinks and nibbles reception followed by a panel of some of the contributors.
This book includes chapters from practitioners in the UK and US which include Tom SIne (Mustard Seed), Shane Claiborne (Simple Way), Andy Freeman (24-7), Ray Simpson (Aidan & Hilda), Ian Adams (CMS small missional communities), Ian Mobsby (Moot) Tessa Holland (Contemplative FIre), Diane Kershaw (Order of Mission), Philip Roderick (Contemplative Fire), Pete Askew (Northumbria Community), Mark Berry (Safe Space), Bp Graham Cray (Archbishops Missioner) and Abbot Stuart (Mucknell Abbey).
Book Description
The combination of Fresh Expressions and the explosion of interest in monastic spirituality is resulting in the emergence of new monastic communities inspired by historic patterns of religious life, but reframed for the contemporary world. This worldwide movement is seen as a radical expression of ecclesial community and was named in Mission Shaped Church as one of the leading new forms of church that would help people reconnect with Christianity. A new monastic community may be a dispersed group of families and individuals meeting to share meals and worship, it might be a group connected virtually; it might be a youth group exploring monastic spirituality. In this book, leaders of traditional religious communities and emerging 'new monastic' communities tell their stories and reflect on how an ancient expression of being church is inspiring and shaping a very new one.
About the Editors
GRAHAM CRAY is Archbishops' Missioner and Team Leader of Fresh Expressions. IAN MOBSBY is Associate Missioner of Fresh Expressions and founder of MOOT, a worship community exploring fresh ways of being the church in the centre of London.
We are sorting out logistics shortly, but there will be evening events in Manchester and London.
Link to the Event in Manchester
The Panel in London will include:
(Chair) Ian Mobsby, Moot Community
Bp Graham Cray, Archbishop's Missioner and Leader for Fresh Expressions
Br Sam, Provincial Minister for the Church of England Franciscans
Andy Freeman, 24-7 Community & Reconcile Reading
Ian Adams, CMS Small Missional Communities
Diane Kershaw, The Order for Mission
Aaron Kennedy, Moot Community
Tessa Holland, Contemplative Fire Community