Book Launch: Paul Gragl – Legal Monism: Law, Philosophy, and Politics

Wednesday, 5 December 2018 from 16:00 to 18:00 (GMT)
Event Details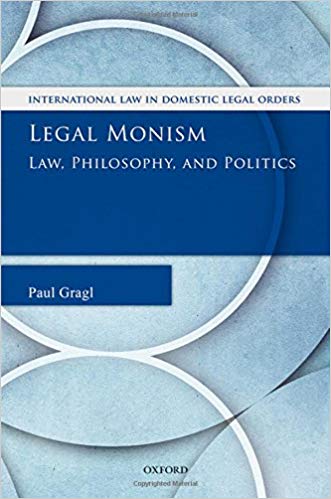 In response to a climate in which respect for international law and the law of the European Union is rapidly losing ground, Paul Gragl advocates for the revival of legal monism as a solution to potentially irresolvable normative conflicts between different bodies of law. In this first comprehensive monograph on the theory as envisaged by the Pure Theory of Law of the Vienna School of Jurisprudence, the author defends legal monism against the competing theories of dualism and pluralism.
Drawing on philosophical, epistemological, legal, moral, and political arguments, this book argues that only monism under the primacy of international law takes the law and the concept of legal validity seriously. On a practical level, it offers policy-makers and decision-makers methods of dealing with current problems and a means to restore respect for international law and peaceful international relations. While having the potential to revive and elicit further interest and research in monism and the Pure Theory of Law, the comprehensiveness and scope of the book also make it a choice text for inter-disciplinary scholars.
About the Author 
Dr Paul Gragl is Reader in Public International Law and Theory at Queen Mary, University of London. His research interests include public international law, EU law, human rights, and legal theory as well as philosophy.
Commentary 
Dr. Christoph Kletzer from King's College London will provide commentary. Dr Kletzer's research has been in the areas of Legal, Moral and Political Philosophy. His main interests lie in German Idealism (mainly Fichte and Hegel) and the legal and political thought of the Weimar Republic (focusing on Kelsen and Schmitt). He is particularly interested in the intersections of contemporary metaphysics and epistemology with legal theory. Dr Christoph Kletzer is a Senior Lecturer in Legal Philosophy. 
Do you have questions about Book Launch: Paul Gragl – Legal Monism: Law, Philosophy, and Politics?
Contact QM School of Law
When & Where

Room 313, School of Law
Queen Mary, University of London
Mile End Road
E1 4NS London
United Kingdom


Wednesday, 5 December 2018 from 16:00 to 18:00 (GMT)
Add to my calendar